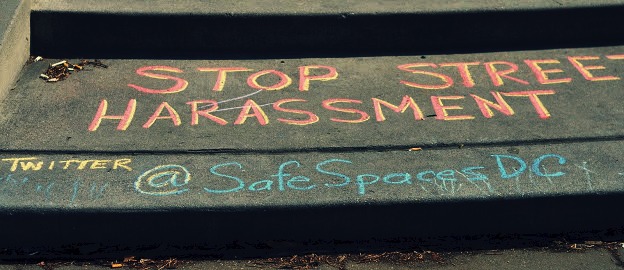 Location: Between Columbia Heights and Woodley Park, DC
Time: Daytime (9:30am-3:30pm)
It was one of the first nice days out in a long time, so I decided to walk home from the Target in Columbia Heights rather than take the bus. I noticed a man leaning out the passenger side window of a car leering at me and licking his lips. I asked him, "What the fuck are you staring at?" He replied, "Damn, nice legs baby. And you've got a mouth on you, I like that." Then [he] said to the driver of the car (loudly, clearly intending for me to hear) "I would tear that shit UP."
I flipped him off, then did my best to ignore him as the car drove slowly beside me for the next several blocks, staring at me the entire time. When I sped up, they sped up; when I stopped, they stopped. I was worried that they would follow me all the way home, so I looked for a store to stop in and wait for them to pass, but I was in the middle of a stretch of residential blocks. I shouted at them a few times to leave me alone, but each time the man laughed and seemed to be enjoying my obvious anger/discomfort.
There were plenty of other people on the street, but everyone just looked away and continued to go about their business. No one did a thing to stop it, and someone even gave me a dirty look when I shouted a curse word at the man. Like I was the one doing something wrong. After the fact I wished I had thought to make a note of the car's license plate, called the police to report it, done SOMETHING besides just let it happen, but in the moment I was too angry and afraid to do anything besides get home.
Submitted 4/2/14 by "Nicole M."
Take a stand against public sexual harassment and assault: Donate now.
---
Do you have a personal experience with gender-based public sexual harassment or assault? Submit your story to help raise awareness about the pervasiveness and harmful effects of street harassment. All submissions are posted anonymously unless otherwise specified.
If you experience or have experienced sexual harassment on the DC Metro system: Whether the event is happening at the moment or occurred months ago, we strongly encourage you to report to Metro Transit Police (MTP): www.wmata.com/harassment or 202-962-2121. Reporting helps identify suspects as well as commons trends in harassment. You can program MTP's number into your phone so you can easily reach them when needed.
If you need assistance in coping with public sexual harassment or assault, please contact the DC Rape Crisis Center (DCRCC) 24/7 crisis hotline at 202-333-RAPE (202-333-7279).