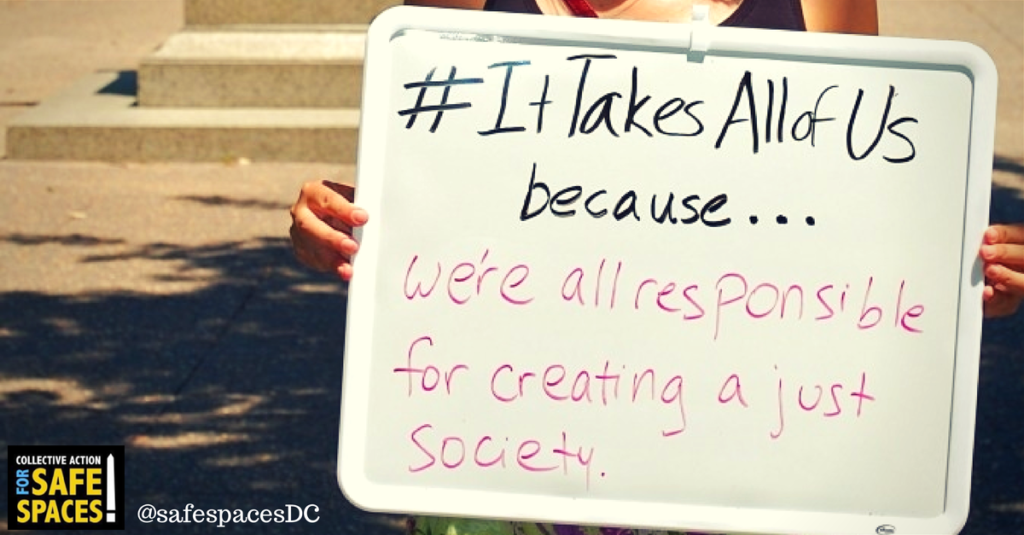 Location: Georgia Ave and Wayne Ave (Silver Spring, MD)
Time: Evening Rush Hour (3:30pm-7:30pm)
I was walking to an appointment and passing by two men sitting on a bench. I nodded to them and made eye contact like I usually do. As I walked past, one of them said, "Hey, how you doing, sexy?" I didn't respond as I was startled – I hardly ever get street harassed (I think because I'm so tall) so I wasn't mentally prepared. The man continued speaking louder and louder – I don't know exactly what he said next, but it was something about their balls and being out all day in the hot sun. I continued walking and decided not to respond. He ended by yelling down the street, "Bitch, I could make you happy!"
I was still shook up over an hour later when I came out from my appointment, but luckily they were gone. Having those things said to you – especially when you're alone on the street and it's two against one – is like having poison poured into you. I still felt sick hours later. And no — no one who calls me "bitch" will ever make me happy.
Submitted 8/15/14 by Anonymous.
Take a stand against public sexual harassment and assault: Donate now.
---
Do you have a personal experience with gender-based public sexual harassment or assault? Share your story to help raise awareness about the pervasiveness and harmful effects of street harassment. All submissions are posted anonymously unless otherwise specified.
If you experience or have experienced sexual harassment on the DC Metro system: Whether the event is happening at the moment or occurred months ago, we strongly encourage you to report to Metro Transit Police (MTP): www.wmata.com/harassment or 202-962-2121. Reporting helps identify suspects as well as commons trends in harassment. You can program MTP's number into your phone so you can easily reach them when needed.
If you need assistance in coping with public sexual harassment or assault, please contact the DC Rape Crisis Center (DCRCC) 24/7 crisis hotline at 202-333-RAPE (202-333-7279).