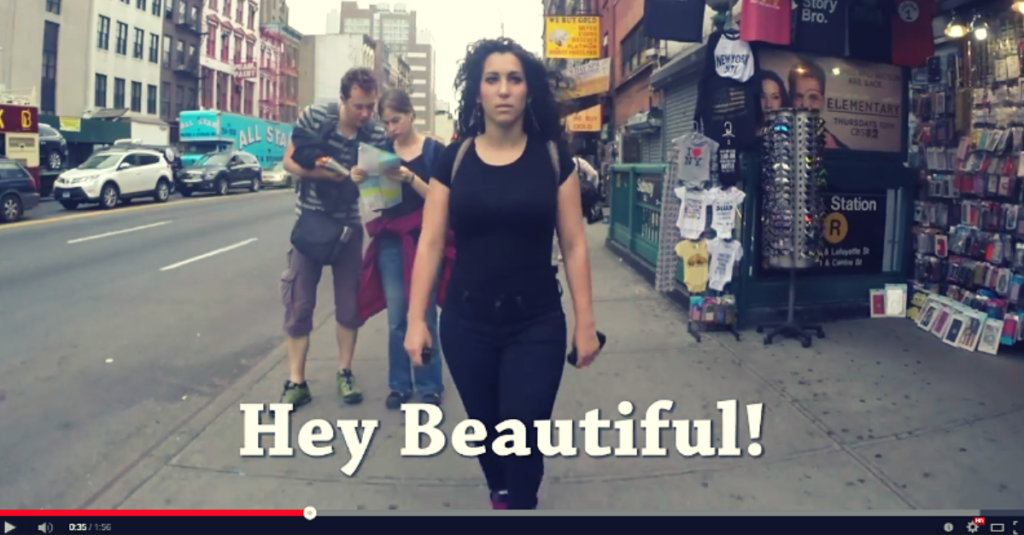 Did you watch the new viral street harassment video? Here are some of our thoughts:
We thought: Wow, nearly 23 million views???! People are talking!

We thought: Look at all of this amazing conversation about street harassment, what it feels like, and how we can stop it.

We thought: But, this isn't what "walking as a woman" looks like, because every woman's experience is different.
The woman being harassed in the video is a white woman walking through Manhattan. It's dangerous and also plain incorrect to generalize her experience as representing those of all women. From the research and from stories of people of color, people from low-income communities, people who identify as LGBTQ, people who are differently abled, and others who don't present like the actress in this video (see below for some of our favorite examples), we know that these communities experience more severe and more frequent harassment starting earlier in life.
Activism is challenging and never perfect. Especially tricky is the problem of representing something like street harassment, which has endless layers and complications and is experienced differently by people of different identities and settings. We admire and appreciate the work that went into creating this video — many of you told us that the video resonated with you strongly, and there's no doubt it's expanding the conversation about street harassment — but even as we do that, we can hold Hollaback and the video's creator accountable for the choices they made.
We know that instances of harassment perpetrated by white men were edited out of the footage, reportedly because the footage or sound was of poor quality. Whatever the reasons, we agree that the final product reproduces a narrative that leads to the criminalization of men of color, and the centering of just one story in a movement where we can and must do better. And we question whether the video would be so viral if this hadn't been the case.
We encourage you to ask yourselves: Would the conversation be different if the woman in the video were fat or differently abled? Would people be as shocked by the video if it was of a woman of color being harassed by men of all races? Because that's our challenge, you guys. In order to end street harassment, we have to get to a place where every single story matters, whether the victim looks like you (or doesn't), or the harasser looks like you (or doesn't).
 
Recommended Reading
Take a look at this reading from people who said it better than we can, and then tell us what you think. What does this video mean to you? What's your take on the intersections of harassment, class, and race?
Hello, Beautiful: On street harassment, public consent, race and more, Medium, Deanna Zandt
A Viral Video Can't be the Only Way to Understand Street Harassment, Stop Street Harassment, Holly Kearl
De-Centering Whiteness is Essential to Thinking About Street Harassment, ColorLines, Aura Bogago
The Director of the Viral Catcalling Video Explains Why It Has So Few White Men, The New Republic, Molly Mirhashem
More analysis we love on the intersection of race, class and street harassment:
#YouOKSis? It's Time For Men To Be Proactive In Helping Women Fight Street Harassment, Terrell Jermaine Starr, NewsOne
Blinders & the Tyranny of Good Intentions: Street Harassment, Stop & Frisk, and Criminalization, Prison Culture
The Uncomfortable Privilege Of Being Catcalled, Thought Catalog, Chelsea Fagan
[VIDEO]
Jessica's Feminized Atmosphere
, The Daily Show