If you're plugged into the Washington, D.C., art scene, you may have seen Kelly Towles' work in exhibitions at the David Adamson Gallery. But it doesn't take an art enthusiast to catch a glimpse of his murals around town at places like U Street Music Hall, Toki Underground, DC Brau and Graffiato. Towles has work for sale tomorrow at CASS's 6th anniversary party, "Lights, Camera, Collective Action!" from 6:00-8:30pm at Room & Board in DC. He took some time to chat with CASS about his work and the universal human experience of equipping ourselves to deal with everyday obstacles and challenges of the society in which we live.
Your love for DC is clear in your work. But can you talk about why you support CASS' efforts to end street harassment in the district?
Harassment shouldn't happen anywhere. Hopefully with support and awareness, people will rally behind this cause, because it will make our city a better place overall.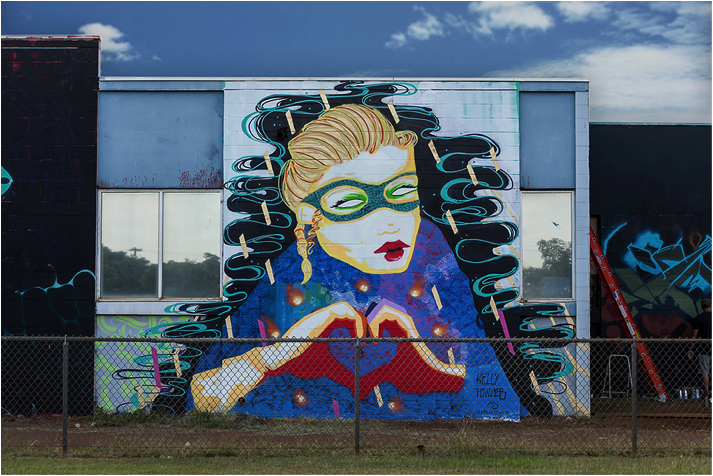 Your art is about individuals dealing with the world around them, and what they wear or do to feel best equipped to do that. Why is this so important to you, and how do you feel best equipped to handle the world around you?
I sometimes never really feel equipped to deal with people – I don't think anyone can.  Those are life lessons: Learning after time how to navigate and sail through life, and dealing with people. It is so unpredictable, but it can also be so rewarding when you run aground on that someone or someones who have the same current or feelings that you do and can return them.
How does art intersect with social justice? Put another way, how does art empower or inspire people to make lasting change?
I think art and music are the great denominators. You can make simple, powerful messages that anyone can understand. You just have to use the right language, which for me is visual.

At tomorrow's "Lights, Camera, Collective Action!" event, you can snag a Kelly Towles original, or peruse work by any of our other featured artists, including illustrator Elizabeth Graeber, Nima Veiseh and  Lisa Marie Thalhammer, known for her "Boxer Girl" pieces. (See Graeber, Veisehand Thalhammer's work below, respectively.)