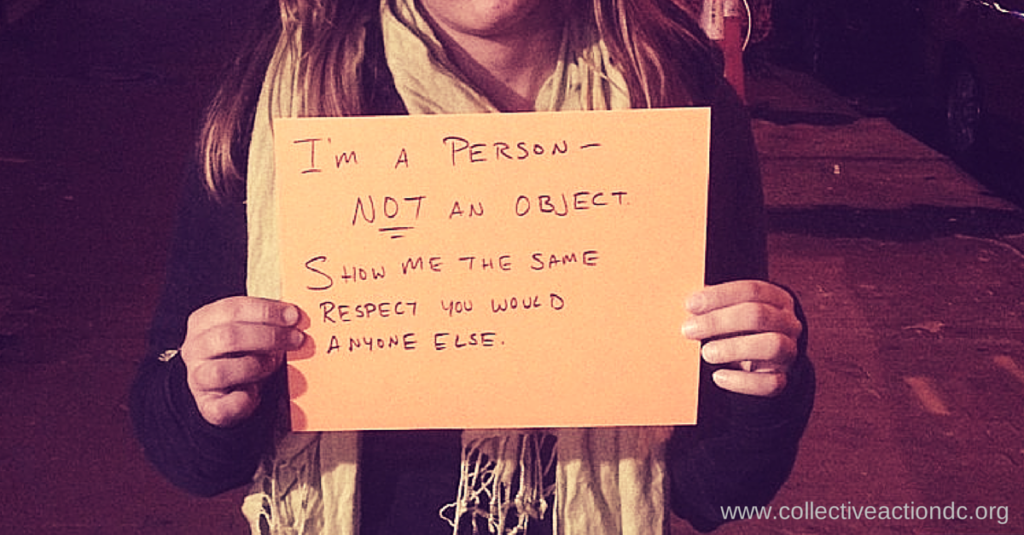 Location: I & 13th NW, 1st & D, Judiciary Square
Time: Daytime (9:30am-3:30pm)
Last Monday (9/15), I went to do an on-foot delivery for work. First, as I waited to cross the street at 13th & I Streets NW, a cab driver passed me and pointed to his cab as if he was offering me a ride. I said "No" and continued to wait for the light. Second, I took a different path than usual to switch up my routine.
On 1st and D, some men were taking up space on the street and exchanging money. My options were to walk through them, walk behind the guy with his back towards the bushes, or walk behind the guy with his back towards the curb. The most open option was to walk behind the guy nearest the curb. As I do this, he says, "How are you doing young lady?" while looking me up and down. I do not want to engage him so I continued walking. He says, "I'll see you when you come back, baby!" I continue walking, continuing to not engage or encourage him.
Lastly, after leaving my delivery destination at Judiciary Square, a man would not stop staring and smiling at me. It was annoying. I gave him eye contact and said "No," but it didn't discourage him. "I saw you from afar," he says, "and I wondered if you had a tattoo." I assume he thinks my patterned leggings are tattooed legs. He's got this creepy grin on his face the whole time. I replied with a brusque "No, I don't" and kept walking. "Have a nice day!" he says. I don't reply.
I said aloud to myself, "These men are so ridiculous!" I was not trying to be offered rides, hit on, or ogled. I have a job to do for work, and that was the only thing on my mind. These men need to learn how to leave women alone.
Submitted 9/23/14 by "D."
Take a stand against public sexual harassment and assault: Donate now.
---
Do you have a personal experience with gender-based public sexual harassment or assault? Share your story to help raise awareness about the pervasiveness and harmful effects of street harassment. All submissions are posted anonymously unless otherwise specified.
If you experience or have experienced sexual harassment on the DC Metro system: Whether the event is happening at the moment or occurred months ago, we strongly encourage you to report to Metro Transit Police (MTP): www.wmata.com/harassment or 202-962-2121. Reporting helps identify suspects as well as commons trends in harassment. You can program MTP's number into your phone so you can easily reach them when needed.
If you need assistance in coping with public sexual harassment or assault, please contact the DC Rape Crisis Center (DCRCC) 24/7 crisis hotline at 202-333-RAPE (202-333-7279).