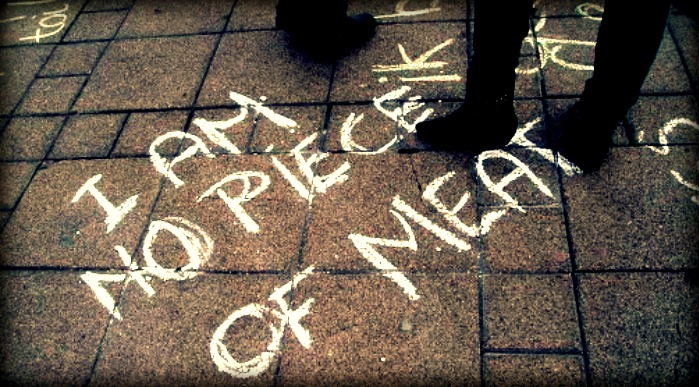 Location: 11th Street and Columbia Rd NW (Columbia Heights)
Time: Daytime (9:30am-3:30pm)
I live around the corner from a house in Columbia Heights that frequently has several men sitting outside who regularly catcall and street harass me and other women who walk by. Unless there are children or women outside with them, which seems to prevent the harassment, I try to remember to walk on the other side of the street to avoid them.
This Saturday, I walked by around 3 in the afternoon, thinking a bright sunny day might hold them back, and they said as I passed: "Nice breasts." When I retorted in anger, they laughed and told me "not to be mad about something so nice." I walked off furious and feeling impotent yet again as to what I could have done.
While this story is not especially terrifying, it makes me extremely angry that this is chronic harassment affecting my neighborhood and my quality of life. I am truly at a loss as to what to do, but this happens so frequently with the same house, it seems like something ought to be done. Any wisdom or insight would be appreciated.
Submitted 4/28/14 by "FJB."

Do you have advice or support? Leave a comment!
Take a stand against public sexual harassment and assault: Donate now.
---
Do you have a personal experience with gender-based public sexual harassment or assault? Submit your story to help raise awareness about the pervasiveness and harmful effects of street harassment. All submissions are posted anonymously unless otherwise specified.
If you experience or have experienced sexual harassment on the DC Metro system: Whether the event is happening at the moment or occurred months ago, we strongly encourage you to report to Metro Transit Police (MTP): www.wmata.com/harassment or 202-962-2121. Reporting helps identify suspects as well as commons trends in harassment. You can program MTP's number into your phone so you can easily reach them when needed.
If you need assistance in coping with public sexual harassment or assault, please contact the DC Rape Crisis Center (DCRCC) 24/7 crisis hotline at 202-333-RAPE (202-333-7279).