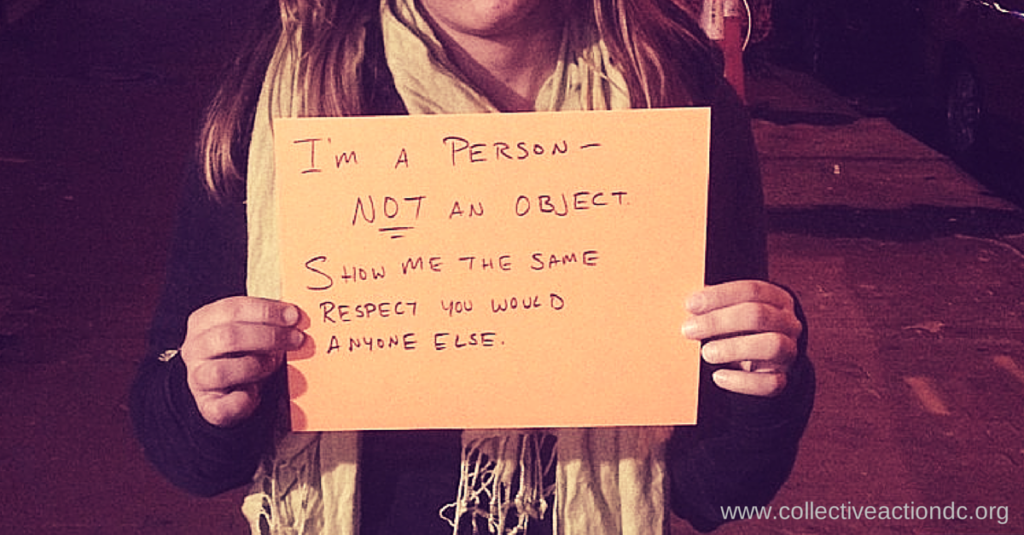 Location: 12th St. NE & Girard St. NE, Washington, DC
Time: Evening Rush Hour (3:30pm-7:30pm)
Tonight, I was walking into my own front yard and saying "hi" to a neighbor (also female) who lives in my building while we retrieved our keys from our purses to go inside. Someone yelled, "Hey, ladies, looking good!" at us. I looked at her and said, "Did that come from a car?" Her: "I think so, there's no one walking by." While I did look at the cars waiting for the light to change with a stern and unamused look on my face, there was no way I could determine who yelled out at us. I felt like a sexual object that received passing commentary in my own front yard.
Submitted 9/10/15 by "TD"
Do you have a personal experience with gender-based public sexual harassment or assault? Share your story to help raise awareness about the pervasiveness and harmful effects of street harassment. All submissions are posted anonymously unless otherwise specified.
If you experience or have experienced sexual harassment on the DC Metro system: Whether the event is happening at the moment or occurred months ago, we strongly encourage you to report to Metro Transit Police (MTP): www.wmata.com/harassment or 202-962-2121. Reporting helps identify suspects as well as commons trends in harassment. You can program MTP's number into your phone so you can easily reach them when needed.
If you need assistance in coping with public sexual harassment or assault, please contact the DC Rape Crisis Center (DCRCC) 24/7 crisis hotline at 202-333-RAPE (202-333-7279).