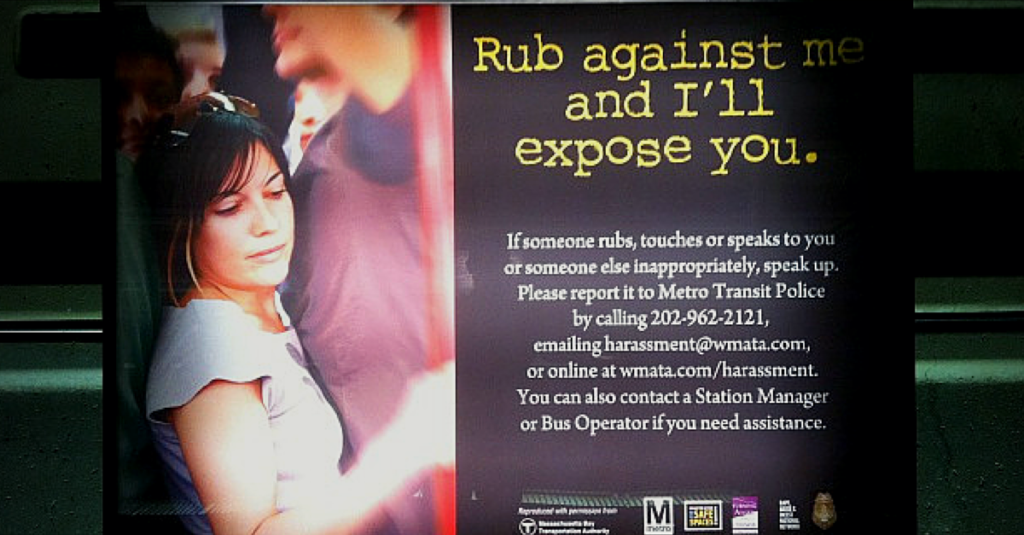 "The changes that Metro is making to address public sexual harassment and assault is a testament to the hundreds of stories we received on our site. We see this partnership as a step in the right direction and a model for other transit agencies around the world to follow."
— Chai Shenoy, co-founder, Collective Action for Safe Spaces
In February 2012, Collective Action for Safe Spaces began an official campaign for the Washington Metropolitan Area Transit Authority (WMATA) to implement policy to address sexual harassment and assault on the DC metro. By April 2012, WMATA responded by introducing its first-ever public awareness campaign to combat sexual harassment of customers while using the system.
February 2015
Following months of collaboration with CASS and Stop Street Harassment, WMATA releases its second round of anti-sexual harassment PSAs since the Anti-Sexual Harassment Campaign was established in 2012. The PSAs differ from the first round in that they use gender neutral language and in part address perpetrators of sexual harassment, rather than just those who are harassed.
February 2013
June 2012
Ads instructing metro-goers on

how to report incidents of sexual harassment are displayed at 28 metro stations.
The new posters, fliers and handouts, developed in English and Spanish, are intended to raise awareness about the issue of sexual harassment in public spaces and encourage victims to report incidents to police.
Metro Transit Police continue unprecedented tracking of all reports of sexual harassment incidents – even those that do not rise to the level of a crime.
The data will be used to identify trends and deploy officers as necessary, and will be reported publicly to Metro's Board of Directors on a quarterly basis.
An effort to enhance training for Metro frontline employees is also in development.
Metro continues developing the campaign with CASS as well as the DC Rape Crisis Center (DCRCC) and Rape, Abuse and Incest National Network (RAINN).
See our press release for more information.
April 2012
The first phase of WMATA's Anti-Sexual Harassment Campaign is laun

ched.

The campaign includes an online portal for individuals to report incidents to Metro Transit Police, along with improved data tracking of incidents.
Information submitted through the web portal is immediately transmitted to Metro Transit Police for follow-up action, and people who report incidents have the option of remaining anonymous.
Metro also establishes an email address to allow victims to send photo or video files to assist an investigation.
February 2012
CASS attends the February 22nd DC Council Performance Oversight Hearing on WMATA to Recommend How to Prevent Sexual Harassment and Assault
CASS, accompanied by private citizens and street harassment expert, Holly Hearl, testifies about public sexual harassment and assault that occurs on the transit system.
CASS's testimony stems from hundreds of incidents of public sexual harassment the group collected over three years — at least 30 percent of which took place on or around transit stations, trains, buses or bus stops.
CASS recommends a three-pronged approach to curtailing these crimes: In addition to a public awareness campaign, CASS testifies for WMATA to collect data on sexual harassment and train employees and Transit police on how to address sexual harassment.
See our press release for more information.