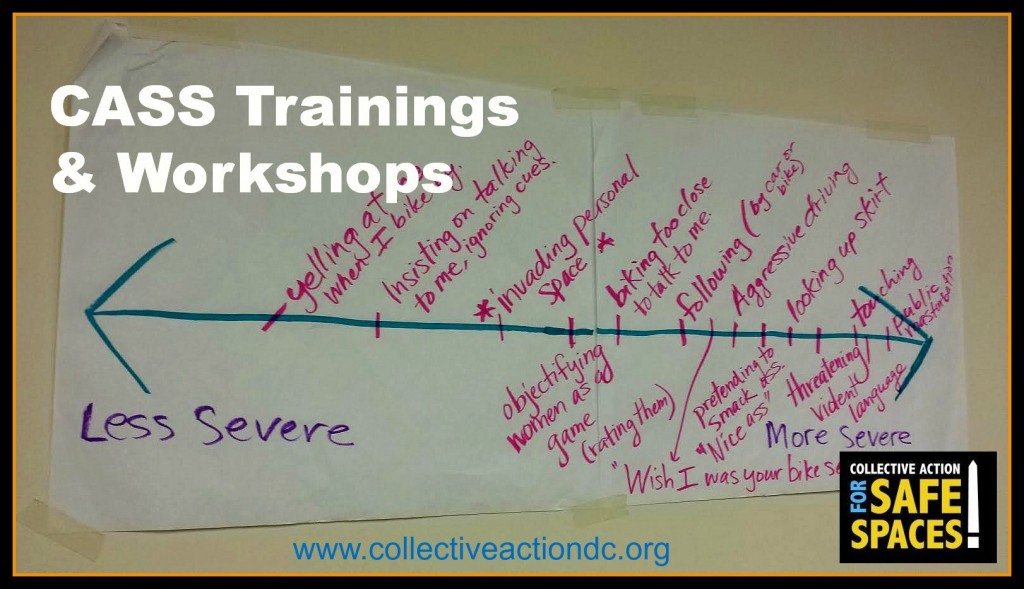 Want to add new tools to your anti-harassment toolbox? Wondering how to motivate your friends, family, and co-workers to become safe spaces activists? Thinking about organizing a community safety audit or other policy project but don't know where to start?
You're in luck! CASS staff is available to provide trainings to your group or organization. We've held trainings and workshops with organizations like Washington Area Bicyclist Association's (WABA), Women's Information Network (WIN), American University, DC NOW and more on a variety of harassment-related topics, including:
Street harassment 101
Assertive responses to street harassment
Bystander intervention
Trainings for youth
Innovative ways to engage in anti-street harassment activism
---
"[CASS's training] was so important because women need to know they're not going through street harassment alone. The sense of community is vital—and the workshop provided participants useful tools to fight back." — CASS workshop participant, Kris Klassen

"The trainer facilitated a few interactive exercises that helped us to anticipate real-world situations in which the bystander intervention skills we were learning could be used. She had a firm knowledge of the issue and handled difficult questions from visitors to our group respectfully, while also reinforcing that victim-blaming is not acceptable."– Tenley Peterson, DC Chapter of the National Organization for Women (DC NOW)


"The workshop was well structured and informative. The facilitators treated the topic well and I left the workshop feeling confident in my ability to address street harassment."– Participant, CASS workshop with Washington Area Bicyclist Association's (WABA) Women and Bicycles Program

"We had great feedback from the workshop! One of the best things about it was how well [the co-trainers] complimented each other. We liked the balance between information/brainstorming and practical demonstrations." – Liore Klein, Metro TeenAIDS

"I really liked how participation was encouraged from everyone and the laid back environment that allowed people to express themselves freely without fear of judgment." – Participant, CASS workshop with Washington Area Bicyclist Association's (WABA) Women and Bicycles Program
---
Interested in bringing our experienced trainers and facilitators to your next meeting or event? Use the request form here or contact us at workshops@collectiveactiondc.org.