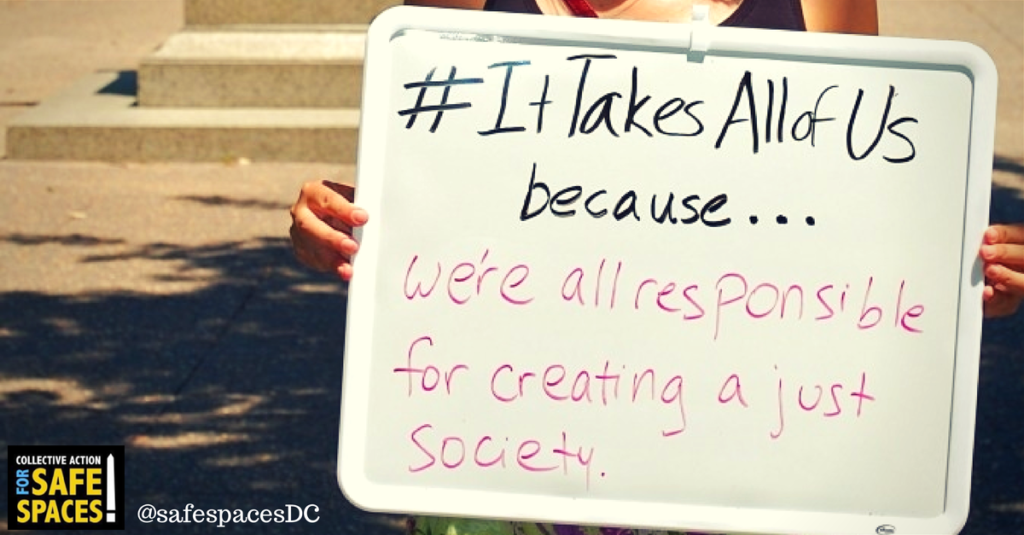 Take Action!
Volunteer! We're always looking for volunteers for our communications, policy, workshops, and fundraising teams! Email info@collectiveactiondc.org to express your interest and we'll connect you with a team lead. We also host volunteer recruitment events, so come on by and learn more (we'll share specific times and dates on social media and on our email blasts).
Share your story with us! Your stories matter and help us inform our programming and workshops. It also can help inform policy change in the DC area, like some of the testimony we presented in December 2015 at the first-ever DC Council roundtable specifically addressing street harassment and assault.
Spread the word! Like CASS on Facebook, follow us on Twitter, and add us on Instagram for our updates in real time—and spread the word with friends! We host "tweet up" conversations on occasion and that is also a great opportunity to interact with us and hear from others in the community who experience street harassment. We also encourage you to join our email list (we'll only send you fun, informative emails, we promise!).
Support our mission! Your generous donations help us continue to provide strong programming. All donations are tax-deductible.