If you hadn't noticed yet, CASS jumped full speed into a new direction last year, centering the experiences of queer and trans people of color and finding ways to ensure that all of our programming addresses not only incidents of harassment, but its root causes.
Recognizing the ways that state violence and gendered violence intersect, we released a factsheet and continue to cite this research in our work. We also partnered with Muslim-led groups and allies to form the DC Justice for Muslims Coalition to organize against state violence, and we're working to identify opportunities for marginalized trans women of color to access supportive employment — potentially in bars and restaurants that we've already trained to build safe environments.
Now, I'm thrilled to announce some changes in our Board leadership with new directors who are excited to help us strengthen our commitment to intersectionality: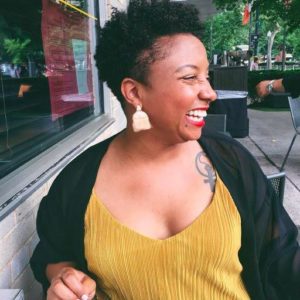 alicia sanchez gill:
alicia joins CASS's Board after years of watching CASS grow and change. She currently works toward gender and racial equity as the director of research and program evaluation for YWCA USA where her work focuses on the experiences of women and girls of color. Among other things, alicia has managed crisis services at the DC Rape Crisis Center, volunteered on the outreach van at HIPS, and done grassroots grantmaking with the Diverse City Fund.
alicia is excited to join CASS in this moment as we're bringing greater attention to the way that gendered harassment intersects with police harassment, and as we work to improve and measure the impact of our programs — we're excited to have her expertise on our team.
"CASS, in its intention, has always meant to support and highlight the unique ways that femmes of color experience street harassment. I'm excited about CASS's commitment to queer and trans folks of color," said alicia. "Our experiences cannot be an afterthought."
---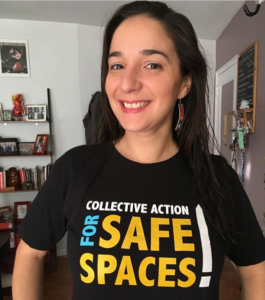 Cecilia Dos Santos:
Cecilia has been a volunteer on CASS's workshops team for two years, facilitating trainings on responding to harassment and expanding our outreach efforts to the youth in her programs at the Latin American Youth Center. "I wanted to ensure that CASS was specifically reaching Spanish speaking audiences, immigrants, and young people," said Cecilia.
Two years and many workshops later, Cecilia joins our Board of Directors with enthusiasm for CASS's new direction. "I want to see CASS's work move forward with raising awareness, changing behaviors, and building communities free from street harassment through a gendered and anti-racist lens."
---
Emily Torruellas:
If you're on our email list, you've been getting emails from Emmy already. For the second year in a row, she's organizing our annual gala (have you bought your tickets?!), and she's bringing her event planning and fundraising experience to the team.
In her role as a Major Gifts Officer at local poverty relief agency Bread for the City, she manages relationships with major donors and researches new funding sources. We're eager to bring her new ideas to the table as we work to diversify our funding streams and make CASS's work more sustainable.
And she's personally invested in the cause: "I've been all too familiar with street harassment since I was in elementary school, and never knew how to address it or defend myself. When I first heard about CASS, I was thrilled to learn that there was a group of people out there trying to make our city safer for everyone, regardless of race, gender identity, or socioeconomic status."
---
Welcome, new Board members! We're so thrilled to have you as part of the CASS family under the new leadership of our fabulous Board Chair, Elizabeth Hague!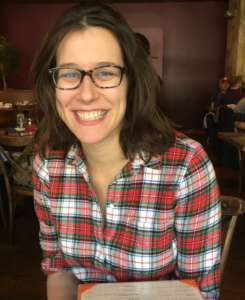 Liz joined CASS's Board one year ago after volunteering with our fundraising and outreach efforts. Lawyer by day and accessibility advocate by night, Liz has pushed CASS to better incorporate the disability lens into our organizing and programming. "I bring a different perspective to the conversation on intersectionality," said Liz, and she's consistently proven this to be true.
When we discuss data that shows that black people are three times as likely to be killed as white people, Liz shares additional data showing that 50% of police brutality victims are people with disabilities. We're grateful for her voice, her service, and her leadership on CASS's Board!
Meet all of these fabulous new Board members and more awesome humans this Thursday at CASS's annual party extravaganza, Safe Space Jam.