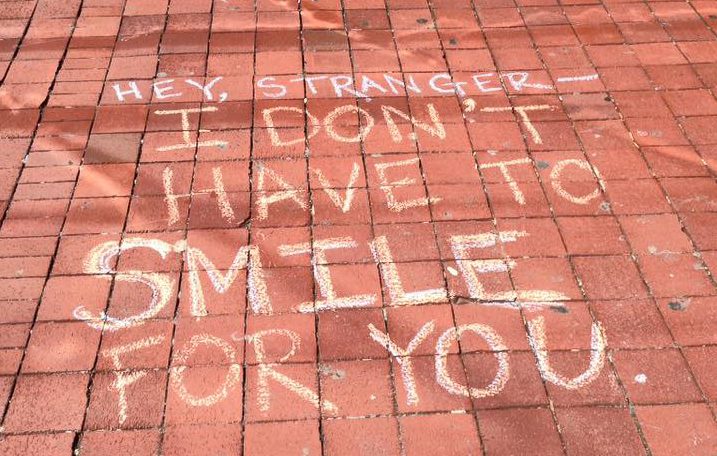 Location: Metro Center (from the red line platform in the direction of Shady Grove and continuing to the lower platform in the direction of Vienna)
Time:  Daytime (9:30am-3:30pm)
On Wednesday, August 10th at right around 3 PM, I was transferring from the red to orange line at Metro Center when I heard someone behind me on the red-line platform comment "you got a bootie on you, don't you!" and then when I didn't respond he got closer and louder to repeat himself. I turned and saw two men in what looked like may have been metro maintenance worker uniforms. I said to the one who made the comment "are you kidding me, you work for metro? are you trying to get yourself fired?" He and his buddy laughed at me and started commenting that "they don't work for nobody" and they can say whatever they want to me. I continued yelling at them, and quit listening to what they were saying at that point — I was too angry because they were so proud and laughing and joking together about making me uncomfortable. I hung back a second while they went down the escalator to the lower platform so that I could take out my phone to take pictures of my harasser. When he saw me taking his picture, he laughed and said something like "oh you want my picture" and turned and posed for me. I told him I was reporting him and he laughed me off. The train came and we got on separate cars. I got off at McPherson, and thankfully he stayed on. The pictures aren't great, but I'll share them if they are in any way helpful.
Submitted 8/11/16 by "JG"
Do you have a personal experience with gender-based public sexual harassment or assault? Share your story to help raise awareness about the pervasiveness and harmful effects of street harassment. All submissions are posted anonymously unless otherwise specified.
If you experience or have experienced sexual harassment on the DC Metro system: Whether the event is happening at the moment or occurred months ago, we strongly encourage you to report to Metro Transit Police (MTP): www.wmata.com/harassment or 202-962-2121. Reporting helps identify suspects as well as commons trends in harassment. You can program MTP's number into your phone so you can easily reach them when needed.
If you need assistance in coping with public sexual harassment or assault, please contact the DC Rape Crisis Center (DCRCC) 24/7 crisis hotline at 202-333-RAPE (202-333-7279).