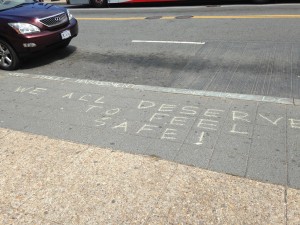 Location: Sax Nightclub
Time: Night (7:30pm-12am)
On Sunday February 18 we went out for my friend's birthday to Sax night club. While we were in the club I sat on a wall behind the VIP section, I was in the middle of a conversation when I felt tapping on my shoulder I turned around and Gervonta said I'm sitting right here so I slid over a little bit and turned around to continue with my conversation. He then says B**ch didn't the f**k I just tell you I was sitting right here and pushes me off the wall onto my face. When I got up he was arguing with my friend as she yells at him that's not right you can't put your hands on females like that are you crazy pushing him he then jumps over the VIP wall charging at my friend. As I grabbed her arm to pull her out the way I was saying no no no it's okay he came swinging forcefully at myself and my friend the bouncers ran over to diffuse the situation. He was pushing the bouncers out of his way to get back to us. They grabbed us up escorted out of the club once outside we were walking across the street as him and a few other guys with him motioned towards us being defensive one guy raises his shirt flashes a gun on the side of his waist and says I don't give a f**K about none of that sh** y'all talking I'm from Baltimore. The police came across the street where we were although they did not say anything they stood there watching as everything went down. While his friends held him back from trying to fight on us again I screamed out I would never want to cause any harm to you or wish any hurt on you I love my black people I love my black brothers and I don't want nothing more than to see you win. He continued to become defensive saying so what f**k you b**ch. Nothing was getting resolved so I had to beg my friends as they cried out telling the police what happened to just come on leave it alone let's go it's okay just let it go. As we walked to my car, the car Gervanta was riding in rode past us as we cross the street with his window down he yelled out ahaha that's why you mad ahaha. We sat in the car crying trying to console each other discussing what happened when a guy that saw the fight came over to the car to apologize to each one of us that we had to go through that.
Submitted 2/21/18 by "HB"
Do you have a personal experience with harassment or assault? Share your story to help raise awareness about the pervasiveness and harmful effects of street harassment. All submissions are posted anonymously unless otherwise specified.
If you experience or have experienced sexual harassment on the DC Metro system: Whether the event is happening at the moment or occurred months ago, we strongly encourage you to report to Metro Transit Police (MTP): www.wmata.com/harassment or 202-962-2121. Reporting helps identify suspects as well as commons trends in harassment. You can program MTP's number into your phone so you can easily reach them when needed.
If you need assistance in coping with public sexual harassment or assault, please contact the DC Rape Crisis Center (DCRCC) 24/7 crisis hotline at 202-333-RAPE (202-333-7279).