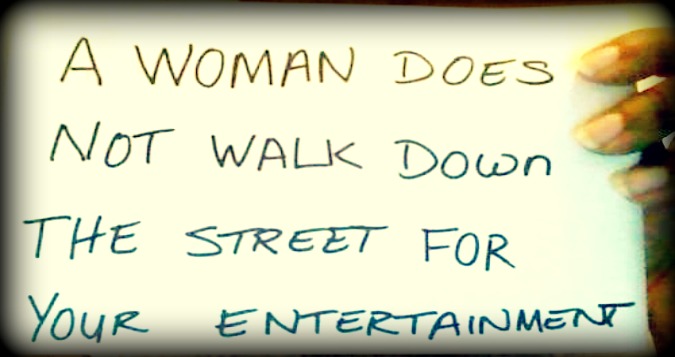 Location: Holbroke & Childress St NE
Time: Morning Rush Hour (5am-9:30am)
I was walking my dog before work and heard a man call out to me "Hey!" I thought he wanted to comment on the dog or something, so I stood there while he walked over. He leaned close to me and said, "You wanna sell some pussy, baby?"
It took me a moment to process that. When I had, I took a deep breath and screamed, "NO, I DO NOT. And NEXT TIME you are thinking about MY VAGINA, I'll thank you to KEEP IT TO YOURSELF."  I then ran up the steps to the rec center, paused at the top and shouted, "ASSHOLE." He said nothing, just walked away.
I've seen him several times since and he always tries to say hello. I ignore him and cross the street.
Submitted 2/19/14 by "KES."
Emphases by CASS.
Take a stand against public sexual harassment and assault: Donate now.
---
Do you have a personal experience with gender-based public sexual harassment or assault? Submit your story to help raise awareness about the pervasiveness and harmful effects of street harassment. All submissions are posted anonymously unless otherwise specified.
If you experience or have experienced sexual harassment on the DC Metro system: Whether the event is happening at the moment or occurred months ago, we strongly encourage you to report to Metro Transit Police (MTP): www.wmata.com/harassment or 202-962-2121. Reporting helps identify suspects as well as commons trends in harassment. You can program MTP's number into your phone so you can easily reach them when needed.
If you need assistance in coping with public sexual harassment or assault, please contact the DC Rape Crisis Center (DCRCC) 24/7 crisis hotline at 202-333-RAPE (202-333-7279).