We're excited to debut new posters from the Safe Bar Collective and the DC Coalition Against Domestic Violence (DCCADV)! On the heels of Domestic Violence Awareness Month, these posters are raising awareness about strategies YOU can use when you see someone being harassed.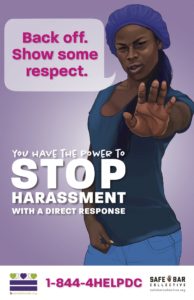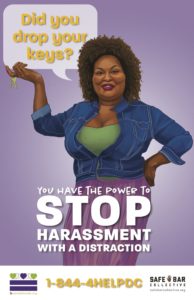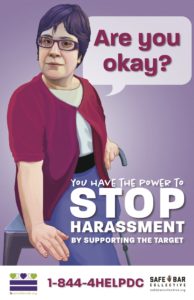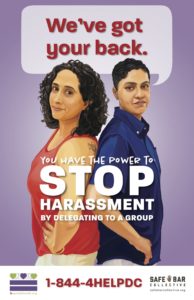 Designed by Baltimore-based muralist Maura Dwyer, with support from graphic designer Charrose King, the new posters also provide resources for survivors, including the Safe Bar Collective and the number for DC's Victim Hotline (1-844-4HELPDC) — a free, 24-hour helpline providing resources to those who have been victimized
You may recognize some familiar faces on the posters, too! The designs were inspired by DC community leaders and friends of CASS, including two participants of our Safe Bar Collective program, Desiree and Reshay.
We know that stepping in to help stop harassment can be difficult for a variety of reasons, which is why these posters reference a variety of different strategies that we can employ while intervening. These include distracting the harasser, telling them to back off, and supporting the target.
This week also marks one year since the 2016 election, and there's still a great need to cultivate safe environments in DC and across the country. So this November 8, volunteers will be plastering these posters throughout the city — in bars, coffee shops, community centers, and other public spaces.
Want to join? Email Alex.j.levy@gmail.com for more details. If you can't make it, tell us in the comments where you'd like to see these posters in our community! And if you spot one of our posters around town, tweet out a photo and share your street harassment stories using #NopeDC.
We also encourage you to share your stories with us, or seek help and resources from DCCADV, the National Street Harassment Hotline, or DC's crime victims hotline.