For three and a half years, CJ made his living as a hard-working cashier. He always came to work on time and constantly went above and beyond to achieve the very best at the retail store where he worked. But despite his work ethic, CJ watched and waited as other people were hired and promoted to manager positions. For all his accomplishments, he remained where he was as a cashier.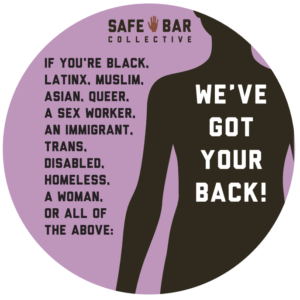 Then one day, something happened to CJ: he got sick.
When he went to his boss with a doctor's letter, his boss refused him outright and fired CJ on the spot. CJ was devastated.
"When I got fired, I was so distraught because I worked so hard to get to that position," says CJ.
Sadly, for trans people of color like CJ, finding and maintaining a stable job can be a challenge.
In DC, the unemployment rate for the transgender community is 36 percent, and skyrockets to 55 percent for Black trans people. Research shows that the root cause of unemployment for trans people is tied directly to discrimination. What's more — 40 percent of transgender adults were refused at least one job because of their gender identity and 47 percent of employees preferred hiring a less qualified cisgender applicant over a more qualified trans applicant.
The new Safe Bar Collective is working to fix that. Your support on June 8th during #DoMore24 will help us ensure that trans people of color — including CJ — are trained, hired, and supported.
The Safe Bar Collective is piloting a program to provide four trans people of color with access to safe and supportive employment in partner bars and restaurants this summer. CASS and the Restaurant Opportunities Center of DC (ROC-DC) will provide everything CJ and the three other participants need to thrive — including restaurant job training, hygiene kits, and transportation stipends to and from work.
Take the pledge to help CJ access safe, supportive employment at a Safe Bar!