Over the past year, our Safe Bars program has trained and empowered 27 bars and restaurants to squash sexual harassment and make these places a safer space for everyone. The program teaches bar and restaurant staff on how to recognize and proactively intervene when sexual harassment happens in their establishments. We firmly believe that all people deserve to enjoy a beer and cheesy fries without unwanted disturbances.
Our 2016 report on the program showed that 90% of Safe Bars participants said our workshop gave them more options for dealing with sexual aggression in a restaurant or bar setting.
Despite all the general amazing-ness of the Safe Bars program, something essential was still missing. While our surveys did not request demographic data about bar and restaurant staff, we noticed something qwhite interesting. Very few people of color — and even fewer women of color — worked in the front of house at bars and restaurants. Research shows that this is a national trend: people of color are frequently relegated to lower paying positions in the back of the house of bars and restaurants, with women and gender nonconforming people of color experiencing discrimination most severely.
At the heart of this, we had to think: we're making bars safer, but safer for who?
Enter the Safe Bar Collective. This year, we're stepping up our commitment to make bars and restaurants safe and inclusive spaces for everyone.
Here's how we plan to do it:
Improve our curriculum and making it more inclusive, including an expanded conversation on race and how it can affect experiences with sexual violence and hate-based harassment.
Creating job opportunities for trans people of color by training program participants with specific job and social skills to prepare them for work in the front of the house at local bars and restaurants. CASS will leverage its existing partnerships with 27 bars that have been educated on cultivating safe environments and partner with the Restaurant Opportunities Center for the training.
Providing ongoing support to help these workers maintain employment with access to transportation, hygiene kits, food, and a supportive group environment.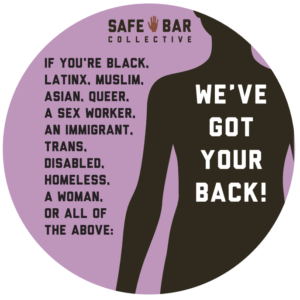 By building the capacity of bars and restaurants to support marginalized workers, and actively supporting trans people of color in accessing and maintaining supportive employment, the Safe Bar Collective will work to make public spaces safer for everyone.
Fab, right? Well, here's how you can help:
Pledge to give to CASS on #DoMore24. Sign the pledge and we'll send you a reminder on June 8th to support our campaign.
Join us at our #DoMore24 happy hour for the Safe Bars Collective at Colony Club on June 8th from 6 to 9 p.m. It'll be happy hour the whole time, and 10% of bar sales will go to CASS!
Give on June 8th. Don't forget to follow through on your pledge!
We have a lot of work to do to make Safe Bar Collective a success. We can do it, together!
One more thing…
Testify in Support of the Street Harassment Prevention Act: On Wednesday, July 12th, join us to testify in front of the DC City Council in support of the Street Harassment Prevention Act!
Introduced in February, the Act is one of the first of its kind to establish a comprehensive framework to address street harassment in our community through non-criminal solutions. Now we need YOU to share your stories of harassment in the District to show the Council how important this act is to community safety. Sign up to testify or submit written testimony here, and we'll be in contact with resources and support!