The photos and interviews below were part of an artivism project by Dejah K. Greene of the Sanctuaries.

Khadija Ali
Have you ever experienced street harassment on the metro or around the DMV area?
Though I'm not from the metro/DMV area, I have experienced street harassment on my visits there and in other major cities, such as in Benghazi, Libya (where my parents are from and where I spent many summers as a teenager), and in Germany.
What happened, and how did you respond?
When I was visiting my friend in Silver Spring, a lot of the harassment consisted mostly of just annoying things like "smile" or "hey beautiful" and it was just very demeaning. It caught me off guard too because I've been living in the south in Nashville for the better part of a decade and you don't experience as much harassment here. Whenever I'd spend my summers in Libya, I remember being between the ages of 13-16 and being catcalled — still a child! I couldn't walk down less than a mile to the convenience store to pick up some things without the neighborhood boys commenting on my clothes or hijab.
In Libya and the rest of the Middle East, a lot of the men and boys who catcall would use one specific religious saying called "mashaAllah," which roughly describes a sort of thankfulness, or joy at something good or happy that God has willed. Keep in mind that this is a term Muslims around the world use on a day to day basis. So I remember as a teenager just being appalled at how this wonderful phrase that reminds us of God would just be defiled and degraded by sick men and boys. And no one cared if I was walking with my dad or my brother or with one of my aunts or my mother, they would just exhibit zero shame. It was difficult because in that culture, responding would mean encouraging them. I learned this the hard way when I decided to flip some of these catcallers off once and they started jeering and following me around for awhile until I decided to ignore them and they left me alone.
How do you think your racial, ethnic, or religious identity(/ies) affects the way you experience harassment?
In terms of my very apparent Muslim identity, my conservative attire, and head covering, I've found that harassment does not discriminate against what women wear. In Libya, I would get harassed about my hijab, in the South I'd get yelled at and accused of being a terrorist or Osama bin Laden's wife/sister/daughter for wearing my hijab. There is this stigma towards women who might choose to dress less conservatively than others which people have used to explain the culture of harassment and rape when that simply is not true. I mean, look at me. I am covered from head to toe, literally the only thing you can see are my face and hands, and I still get harassed. There are other Muslim women out there who are in full Niqab (full face covering in addition to body and hands) and they too are victims of street harassment and rape.
What's one word to describe the way you want people to interact with you in public spaces?
Honorably.
What do you think men should understand about catcalling?
Men should understand that women are not objects to be commented on and looked at. They should learn to have more shame and lower their gaze. Really, men need to reflect upon the notion of the Male Gaze and how that affects the way women alter the manner through which they conduct themselves on a day-to-day basis. Catcalling is absolutely rooted in the Male Gaze. So that means that all women who are harassed (verbally/sexually/etc.) are subject to the Male Gaze. We do not enjoy having our bodies being gazed upon. At all. Period. So long as men do not recognize the Male Gaze as a problem, women will still be dehumanized in every instance of harassment.
Oh, and one last thing I'd like to ask all men to think about: What would your Mama say or do if she saw you catcalling?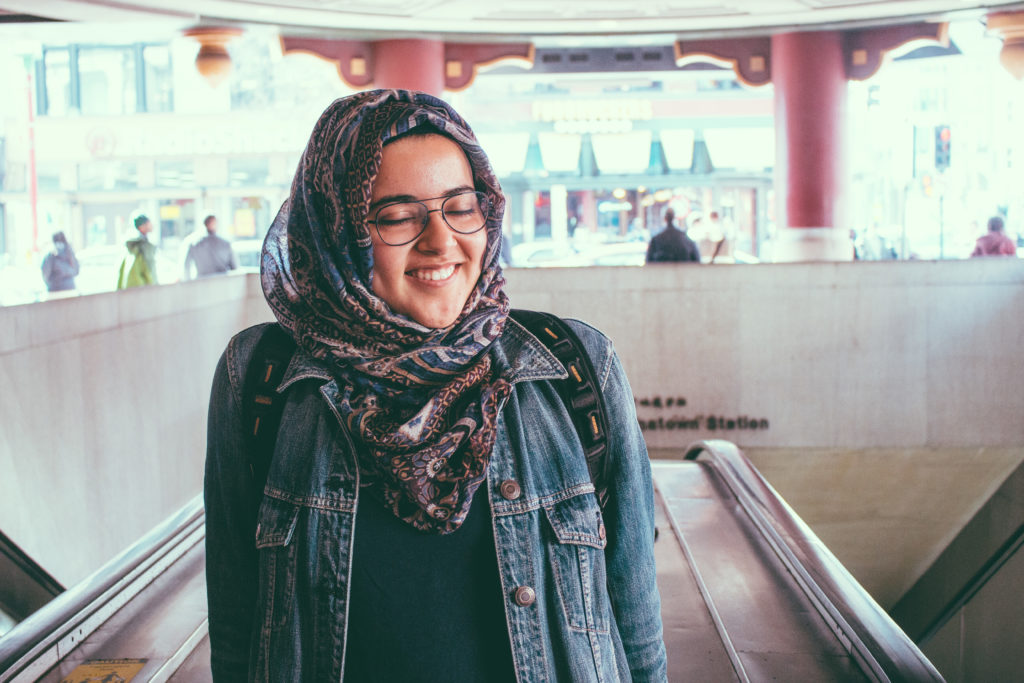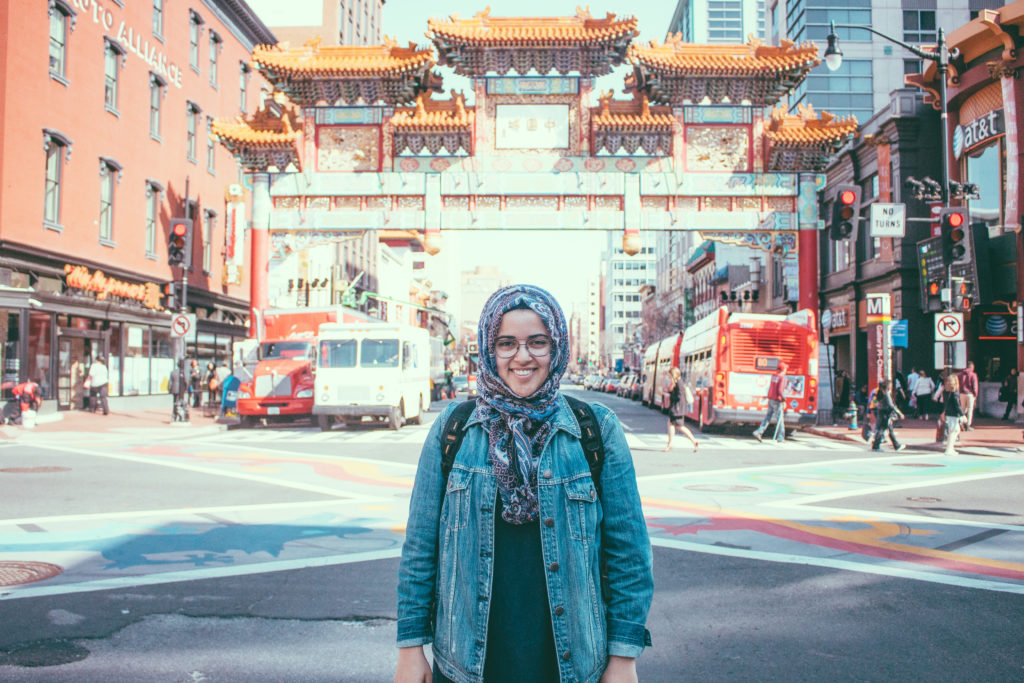 Dina El-Rifai
Have you ever experienced street harassment on the metro or around the DMV area?
Yes. The most recent experience was as I was walking to the Metro station with my friend. I think the encounter could have taken an entirely different turn had my friend not been there with me.

What happened, and how did you respond?

We were walking back. My friend is mixed — White and Latina. White-passing. This man, dressed in an over-sized suit — purple if I remember correctly — and completely drunk, starts talking directly to me. Looks at me and begins to ask me if my people date, or "mess with" Black men. I look at him and then look straight ahead, shortening the distance between me and my friend. The man, however, begins to follow us, standing inches from me, and begins to rant about the changing demographic of this city, repeatedly referencing my Muslim identity and his perception of me as "foreign" as the center of his monologue. He appears frustrated of my unwillingness to answer his questions, and says "you people are so afraid here because of what you experience overseas." This was assuming that 1) I'm not from here and have lived abroad extensively; and 2) that I must have experienced violence abroad because they must be so backwards and oppressive "where I'm from." He then attempts to assure me that I need not be afraid of him, as he inches closer to me, and continues to follow us for several blocks. He goes as far to say "I won't try to do anything sexual or anything" — which instilled more fear in me than anything. As we were finally able to part ways, he repeatedly yelled "you need dick, you will always need dick."
The entire time he was following us, I tried to be very calculated in my response, as I always am. I often try to ignore harassers and keep my eyes forward, usually acting like I do not hear them. Any response often can seem like encouragement for harassers to continue the interaction. However, after their third and fourth and fifth demands for my attention, I begin to fear that my silence or lack of acknowledgment will escalate the situation or anger them. So, when I choose to respond, I try to be firm and calculated, communicating through body language that I see you, hear you, and am uninterested.
It is exhausting to have to be this calculated, and to still be respectful to the harasser, in fear that any perception of disrespect of superiority from me could escalate the situation and put me in danger.

How do you think your racial, ethnic, or religious identity(/ies) affects the way you experience harassment?
As a Muslim woman who wears hijab, I feel that there are multiple targets on my back that make me vulnerable to street harassment. I think there's a strong interplay here of my Muslim identity and my identity as a woman and how that's perceived by men especially in the U.S that explains the experience of harassment. It is not only the feeling of entitlement to comment on my body, but the perception of Muslim women as inferior, oppressed, and powerless that I think is a key driver in the way that Muslim women experience harassment. I think this is also coupled with the refusal of American men to respect the choices of Muslim women who choose to cover — they feel entitled to our bodies and cannot fathom that we would intentionally deny them access to the consumption of our bodies.
While I wear hijab as a declaration of the inherent power that I hold that is independent of my body and sexuality, harassers seek to demonstrate the power they presume to have over us, objectify us. It is this very perception of Muslim women as weak, powerless, and oppressed, that is also used to justify U.S invasion, occupation, and bombing of Muslim-majority countries.
What's one word to describe the way you want people to interact with you in public spaces?
Dignity.
What do you think men should understand about catcalling?
Street harassment, at its core, is an imposition of power by men and their sense of entitlement to attention from women. Know that women, *all* women, deserve to feel safe and in control, and you're unwanted and forced.