Advocates for safe public spaces gathered in Farragut Square on Saturday, April 8th to raise their voices against street harassment and to support the Street Harassment Prevention Act.
Advocates and community members discussed street harassment prevention strategies, shared their experiences, and showed their support for community-based, non-criminal solutions to end harassment. CASS Executive Director Jessica Raven kicked things off with a welcome that emphasized an inclusive, intersectional approach toward ending street harassment. She reminded the crowd that harassment affects us all and that any "solutions" to violence against women that cause harm to other marginalized communities are not real solutions.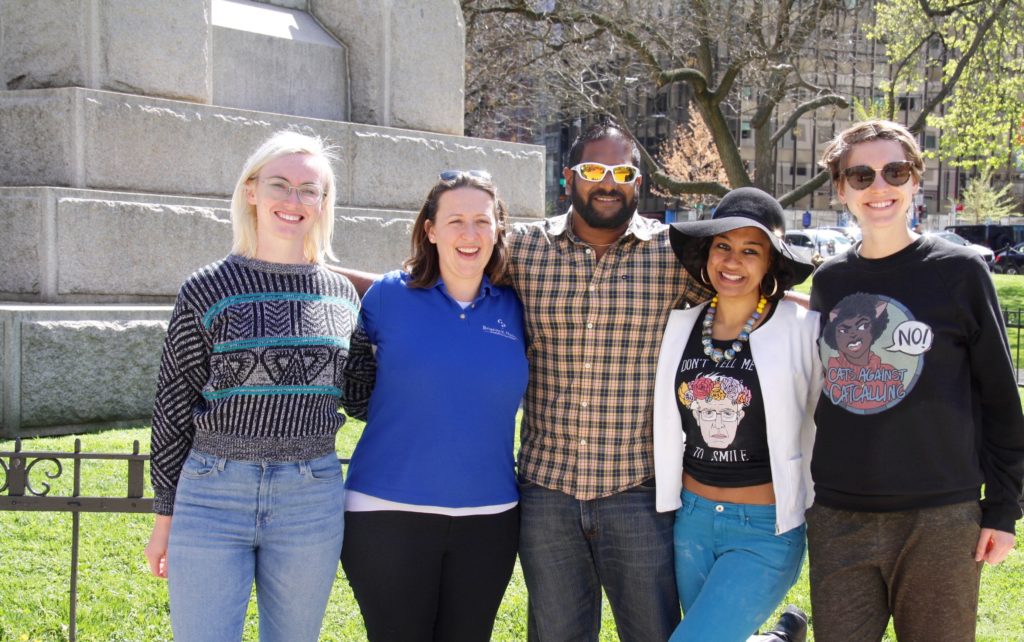 This set the stage for Brianne Nadeau, DC's Ward 1 Councilmember, to discuss the Street Harassment Prevention Act, a measure to educate District employees on street harassment and strategies to combat it. Councilmember Nadeau hopes to shatter misconceptions about street harassment and drive the District's government toward cultivating safe public spaces through better awareness and training.
The need for such solutions and increased understanding from District employees – especially law enforcement – was emphasized when CASS' 2016 Program Fellow Nona Conner shared her own experience as a black trans woman who survived violence in the summer of 2014. When Nona was attacked and stabbed 48 times, law enforcement officials seemed more engrossed in her gender than tending to her medical care. In a similar vein, Kiki, a black trans woman who works at Casa Ruby, shared her own experience when she was shot and police failed to adequately provide her with rapid medical attention. Sharing their stories with the crowd, Nona and Kiki emphasized the lack of attention that law enforcement and officials pay to women's harassment – especially when women are black, Latinx, queer, trans, Muslim, immigrants, sex workers, homeless, or all of the above.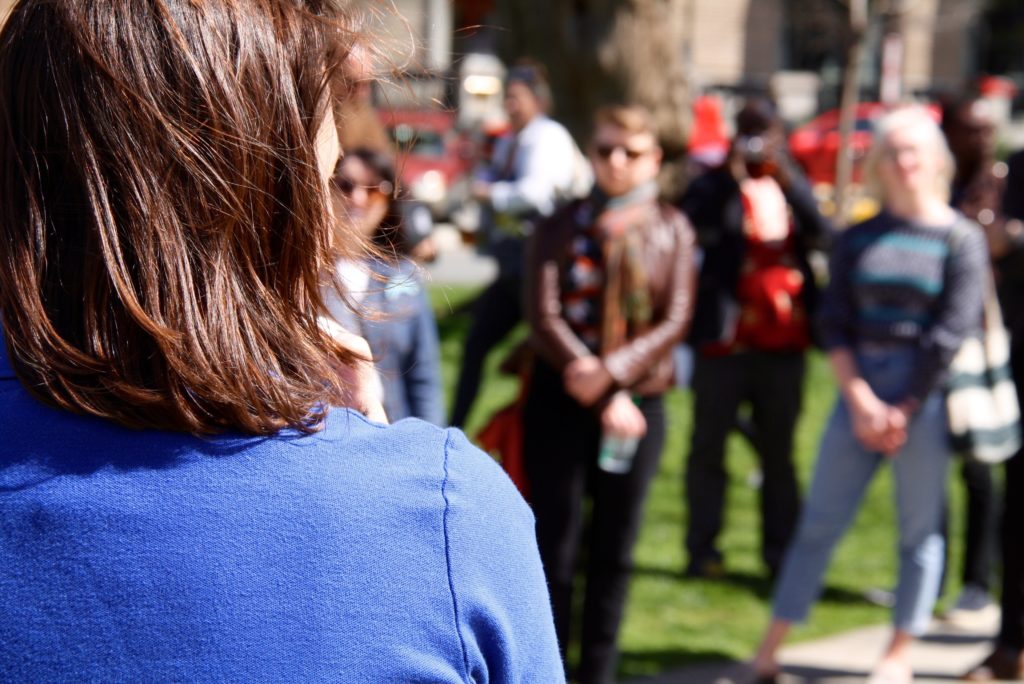 This intersectional approach was emphasized by Darakshan Raja, director of the Washington Peace Center and steering committee member of the DC Justice for Muslims Coalition who talked about the impact of street harassment on Muslim women in the face of state violence like the recent Muslim Ban.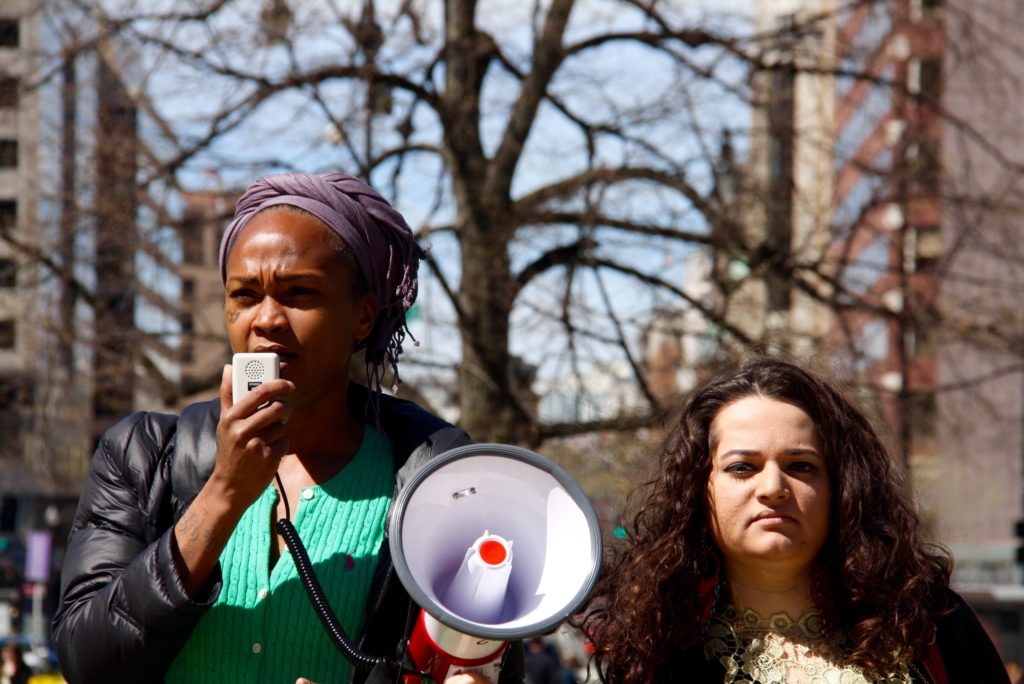 Before breaking out to chalk sidewalks, community members from the crowd came up to the mic to share their personal experiences. Those who came forward ranged from male allies working on CASS' Rethink Masculinity program to a woman and her 11-year-old daughter who had recently been verbally harassed for the first time. Listening to these stories was a clear reminder that harassment affects everyone – people of all genders, young and old, and people across the racial, religious, and sexuality spectrums; as a result, we need to support one another and listen when discussing solutions to a collective problem.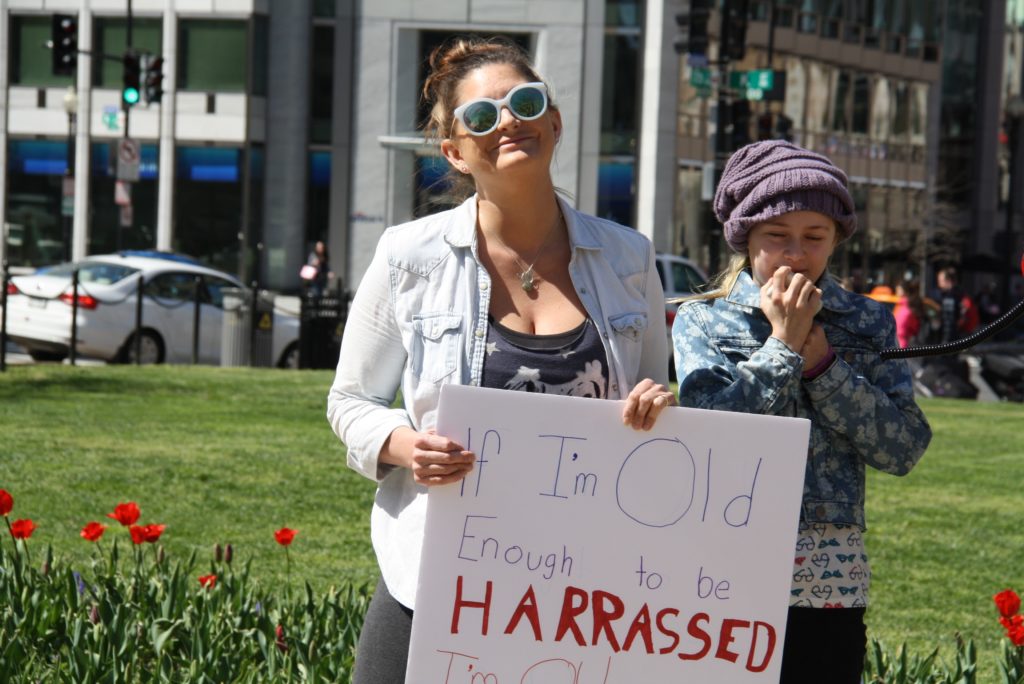 The event concluded with participants sketching some anti-harassment language in chalk around the square and recalling our all-purpose response to harassment – "I don't like it, nobody likes it. Show some respect!"
Learn more about the Street Harassment Prevention Act, and join our email list to stay involved. You can show your support for the Street Harassment Prevention Act with the hashtag #PassSHPA.