At CASS, we have a long history of working with WMATA to make transit safer for *everyone.* But not everyone knows how this relationship got started, and why we even started the partnership in the first place.
As we're about to launch our latest joint campaign on October 7th, here's a little history.
Back in 2012, CASS attended the DC Council Performance Oversight Hearing on WMATA to Recommend How to Prevent Sexual Harassment and Assault. There, our team, along with private citizens and street harassment expert, Holly Kearl, testified about public sexual harassment and assault on the transit system. This testimony was backed by personal accounts as well as hundreds of incidents of public sexual harassment we collected over three years on our My Streets, Too blog. At least 30 percent of of the stories we heard took place on or around transit stations, trains, buses or bus stops.
We recommended a three-pronged approach to curtailing these crimes: a public awareness campaign, data collection, and training for employees and transit police on how to address sexual harassment.
The first phase of WMATA's Anti-Sexual Harassment Campaign launched in April 2012 with an online portal for individuals to report incidents to Metro Transit Police, along with improved data tracking of incidents. Information submitted through the web portal is immediately transmitted to Metro Transit Police for follow-up action, and people who report incidents have the option of remaining anonymous.
Later, ads instructing metro-goers on how to report incidents of sexual harassment were displayed at 28 metro stations throughout the city. The new posters, fliers, and handouts — produced in English and Spanish — were intended to raise awareness about the issue of sexual harassment in public spaces and encourage victims to report incidents to police. The Metro Transit Police continued unprecedented tracking of all reports of sexual harassment incidents.
In early 2013, CASS met with WMATA to follow up on its anti-harassment work, including feedback CASS has received from the community, positive outcomes, and the continuing need for WMATA to implement staff training on sexual harassment and assault. WMATA updated its online reporting portal to enable Metro-riders to more comprehensively report incidents of sexual harassment or assault. Julia Strange, former Director of Programs and Policy, testified on behalf of CASS at the DC Council's performance oversight hearing on WMATA.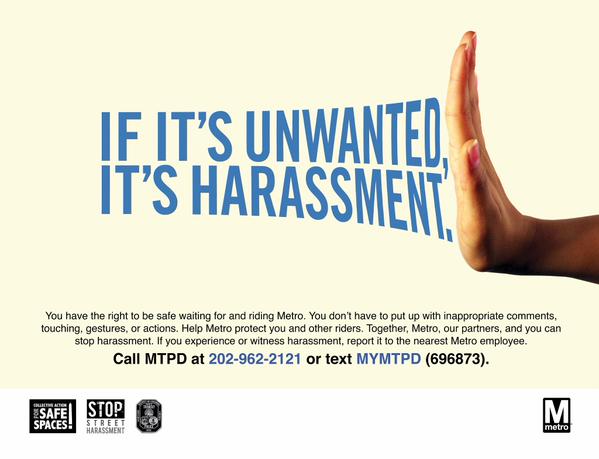 Following months of collaboration with CASS, Stop Street Harassment, and other community partners, WMATA released its second round of anti-sexual harassment PSAs in early 2015. The PSAs, based on community input, used gender neutral language and address perpetrators of sexual harassment, rather than just those who are harassed.
Over the past year, we've continued to work with WMATA to refine ads that grab the attention of the community, and that highlight the diverse range of experiences of those who experience harassment. Look for our new ads on October 7th!
To help support our work to make DC's public spaces safer for *everyone,* can we count on you to become one of our monthly donors? Learn more and join the Collective Action Circle today.