Attention DC! There's a new safe space resource in town, and we at CASS couldn't be more excited about it!
Last month, RAINN partnered with Street Harassment (SSH) and Defend Yourself to launch the National Street Harassment Hotline. The hotline is modeled after RAINN's National Sexual Assault Hotline. Same trained, confidential, toll free advice in English and Spanish, except it's specifically geared towards folks experiencing street harassment.
Right now, it's just the toll free 24/7 hotline at 855-897- 5910. On August 10, you'll also be able to get help on a secure IM chat option on the SSH website.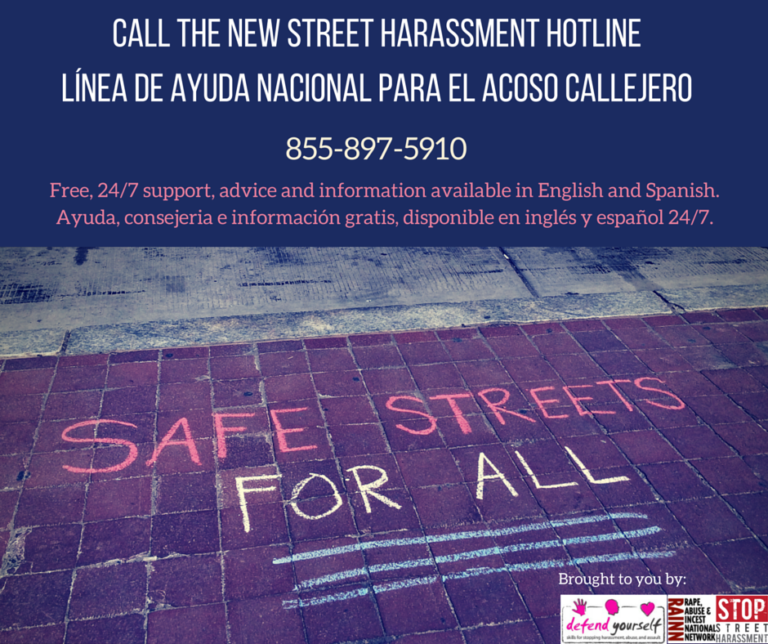 "Until now, there has not been a go-to place for people facing gender-based street harassment to find help. They want to know things like how to respond if they're harassed, what their rights are under the law, or to generally receive emotional support," SSH founder Holly Kearl explains.
And that support can be really important because gender-based street harassment is a big deal.
It's big in numbers, because at least 65% of women and 25% of men in the US have experienced street harassment, often from a young age. And it's big in scope, because verbal harassment and catcalling can escalate quickly.
We at CASS are very excited about this new resource! Shout out to our friends at RAINN, SSH and Defend Yourself for their awesome work.