We are really excited to participate in Capital Pride this year, supporting safe spaces for *all.* Come stop by our booth on Sunday, or march with us in the parade today!
We're manning our booth from 11am-5pm on Sunday and we need 2 people at any given time. Sign up here!
In case you need inspiration, look how cute our Executive Director Jessica Raven and her son Max were last year: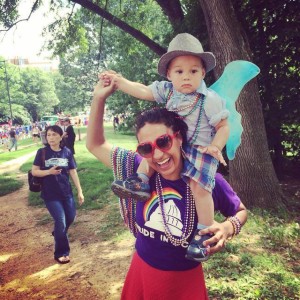 The Capital Pride Alliance is the producer of the annual Celebration of Pride in the Nation's Capital for the national capital region's LGBTA community and partners. Each June, Capital Pride presents nearly two weeks of events to celebrate the diversity of the LGBTA community, including the Capital Pride Parade, Festival and Concert. In addition, Capital Pride produces a wide range of educational, entertainment, and community events to celebrate the community throughout the year. Learn more on their website.