This week, we presented a workshop on bystander intervention for students at the Georgetown University Law Center. Participants shared their experiences with harassment — both as targets and as bystanders —and we offered effective strategies for responding, de-escalating, and remaining safe.
We also had a new conversation about race and privilege.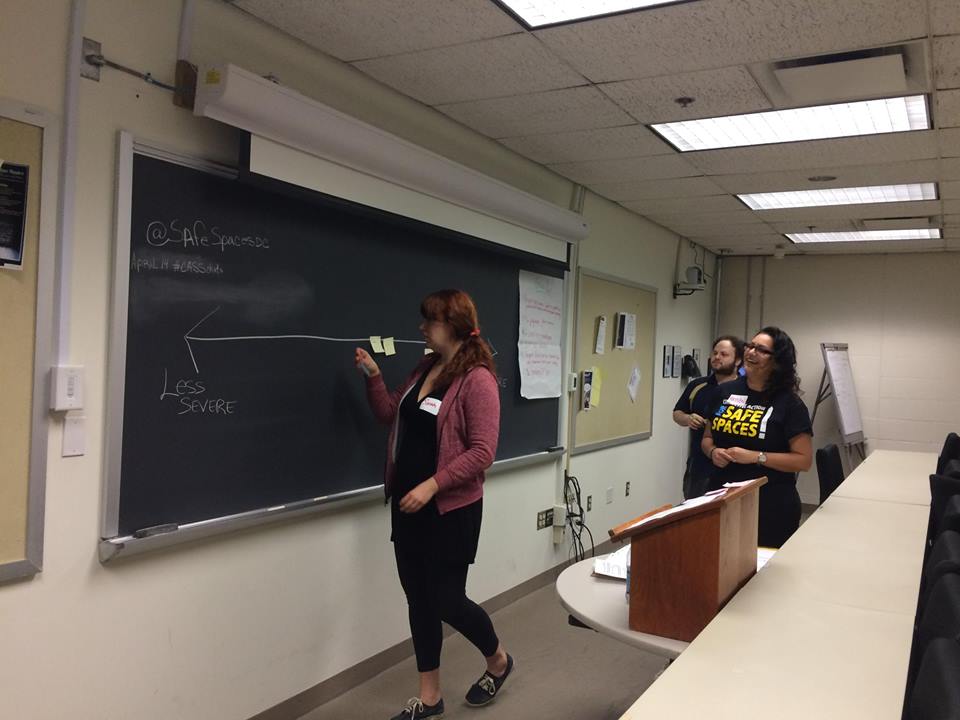 We asked participants: "How do you think factors like your race, ethnic background, gender, gender presentation, or sexual orientation affect the way that you experience harassment?"
It was the first time we'd raised the question in a workshop, but we'd successfully tested it out in our #CASSchats last month, and looked forward to making this small change that creates a safe space for people to talk about oppression. In both our Twitter chat and the workshop, participants jumped right in: straight white men acknowledged that they often don't see harassment, and LGBTQ folks shared that they're harassed with homophobic or transphobic slurs.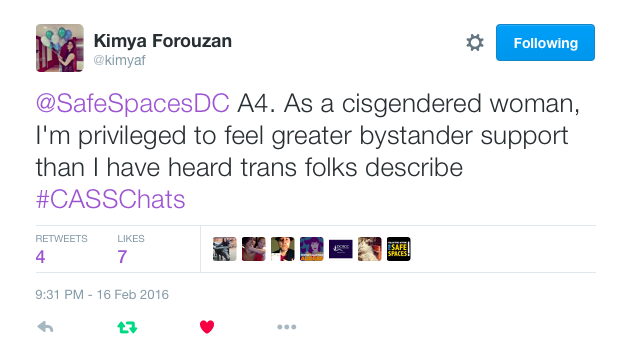 In the past, our Anti-Racism Policy has been that we don't allow references to the race of the perpetrators in our workshops, unless it's directly relevant to the story. The logic behind this policy was simple: We don't want to perpetuate stereotypes about who's doing the harassing. Instead of focusing on race, we encouraged participants to focus on behaviors — helping them recognize sexual harassment as it occurs in both private and public spaces.
While we believe it's important to keep our Anti-Racism Policy in place, the intersectional feminists within us felt that it was not enough.
We're now excited to start the dialogue about race, privilege, and the ways that layers of oppression may affect the way that we experience harassment — that harassment is often different for white women than it is for transwomen of color and that the unwanted contact that has become normalized for us may be more severe if we are not white, cis, and housed.
Interested in talking more about race and privilege? Join us at our public workshop on April 12th, and participate in our next Twitter chat on April 14th at 9pm using #CASSchats.
See all our events for Anti-Street Harassment Awareness Week here!