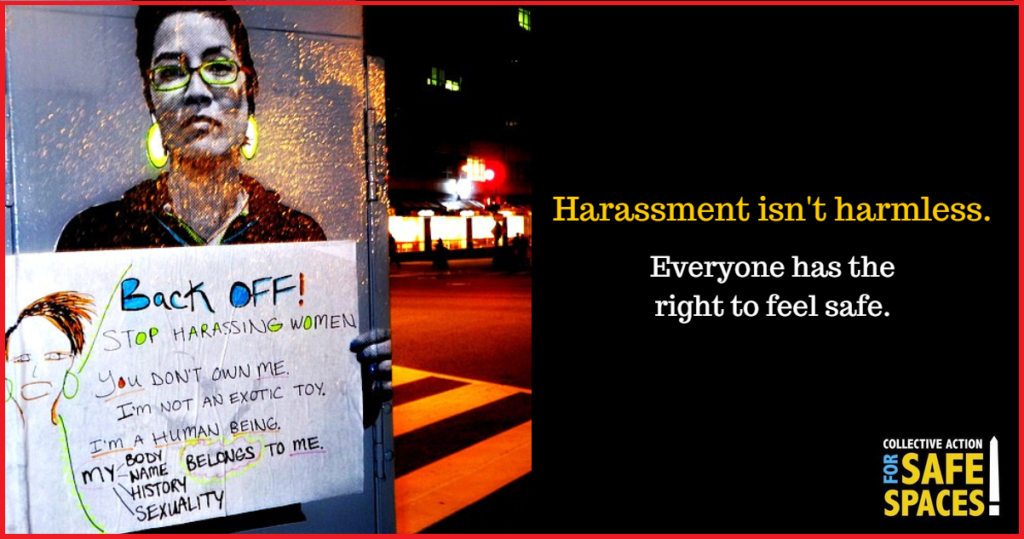 Location: Red Line – Metro Center towards Shady grove
Time: Daytime (9:30am-3:30pm)
I'm a mid 20's hispanic female [and] was on my way home from work sitting in a window seat on the metro. [An] older male sits next to me even though the car is almost empty. I sit closer to the window as he opens up a newspaper and inches more towards me then starts rubbing my upper thigh. I immediately stand up and loudly say "excuse you!!!" He just looks up and smiles. I had to climb over the bastard and run out of the car at the next stop and immediately ask metro staff for help and to report it. They say there's nothing they can do cause I didn't hit the emergency button which was on the opposite side of the car of me. There was no way in hell I was staying in that car one stop longer.
Submitted 10/29/14 by Anonymous.
Do you have a personal experience with gender-based public sexual harassment or assault? Share your story to help raise awareness about the pervasiveness and harmful effects of street harassment. All submissions are posted anonymously unless otherwise specified.
If you experience or have experienced sexual harassment on the DC Metro system: Whether the event is happening at the moment or occurred months ago, we strongly encourage you to report to Metro Transit Police (MTP): www.wmata.com/harassment or 202-962-2121. Reporting helps identify suspects as well as commons trends in harassment. You can program MTP's number into your phone so you can easily reach them when needed.
If you need assistance in coping with public sexual harassment or assault, please contact the DC Rape Crisis Center (DCRCC) 24/7 crisis hotline at 202-333-RAPE (202-333-7279).