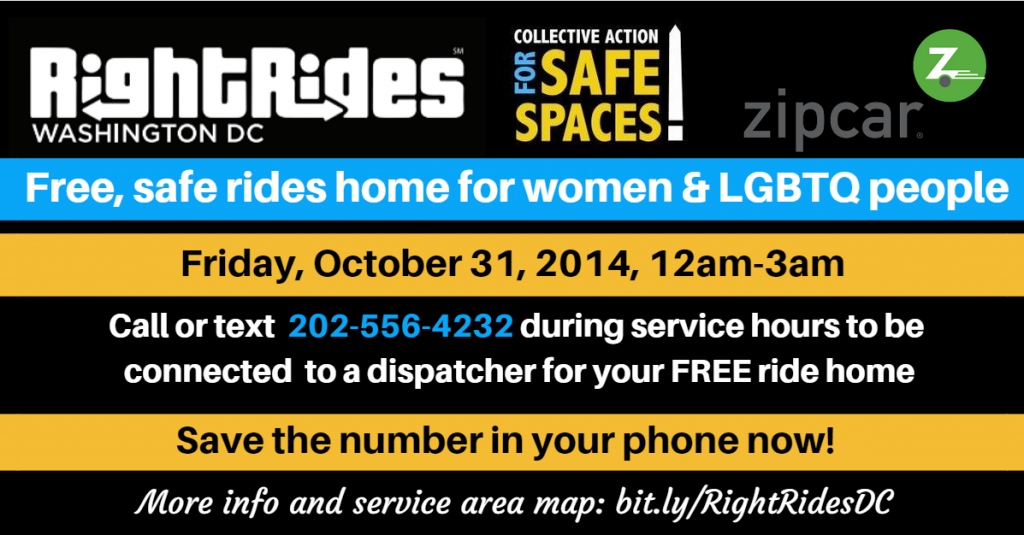 Because getting home safe shouldn't be a luxury.
RSVP to the RightRides Launch Party!
Wednesday, 10/29, at Right Proper Brewery. Drink discounts, door prizes & more!
People who don't regularly experience sexual harassment in public have the freedom to choose where to go and how to get there based on convenience and cost. But for women and LGBTQ folks — populations that are at a higher risk of sexual harassment and assault — these considerations are often in conflict with a need to stay safe. This "safety gap" can end up unfairly costing women and LGBTQ individuals when it comes to time, opportunities and cold hard cash — not to mention that their best efforts to stay safe can still sometimes fail.
Our answer: RightRides DC. This brand new service will help close the safety gap by providing free and safe rides home to women and LGBTQ-identifying individuals late at night. These rides, which are made possible by a partnership with Zipcar, will be operated by driver/navigator teams consisting of trained, screened volunteers.
Save the RightRides DC number in your phone now:

 202-556-4232



RightRides DC, modeled after an award-winning New York City program, will launch on October 31, 2014. As we roll out RightRides DC, We plan to expand the service area and run the service more frequently, with the goal of operating every Saturday by next year. Your support helps us sustain and expand the service. Future service dates will happen once per season and will be decided by community members. Make sure to sign up for our newsletter to take part in our upcoming survey to weigh in on RightRides DC!
Service Area
For the night of October 31, 2014, the service area will be as follows:
Northern Border: Taylor Street NW
Western Border: Rock Creek Park
Southern Border: F Street NW
Eastern Border: Maryland Ave. and Bladensburg Road
Call 202-556-4232 during service times to be connected with a dispatcher and get your free, safe ride home.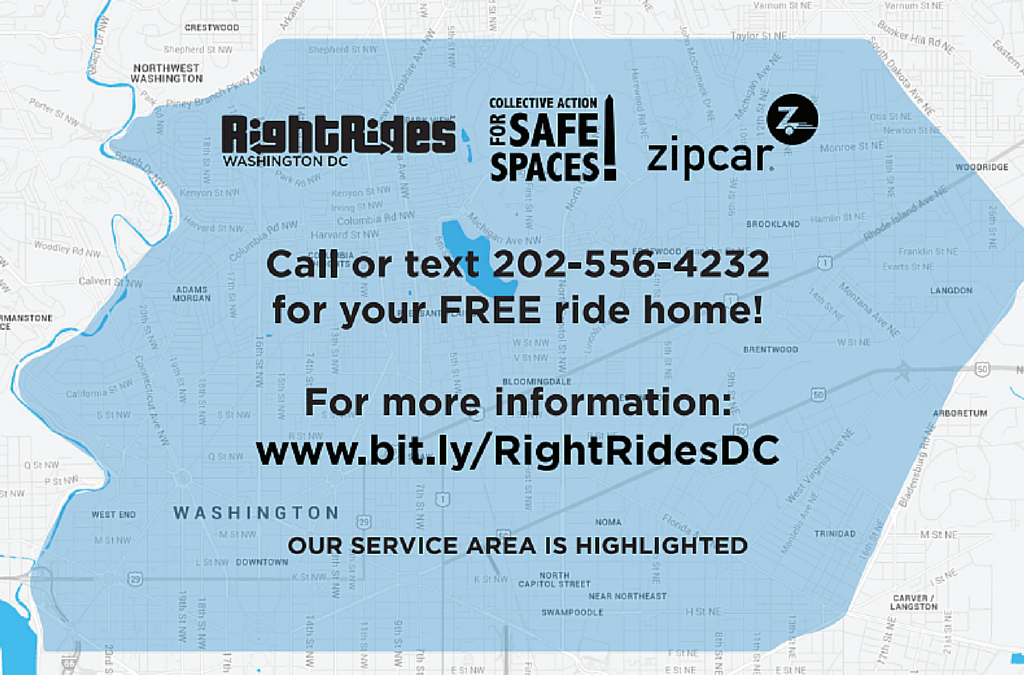 Your support will help us sustain and expand the service!
Our goal is to operate RightRides DC every Saturday by 2015! Here's how you can help:
VOLUNTEER: We're still looking for volunteer drivers, navigators, and dispatchers. Volunteers must be available during service hours (late at night, likely on holidays) and must commit to at least two shifts per year. We're also looking for people to help spread the word about the service on our outreach team! Apply by filling out a short volunteer application.

RIDE: We'll take you home — not to another party or a bar — within our service hours. Your starting and ending destination must also be within our service area. Save our number in your phone now: 202-556-4232!

DONATE: Every donation helps more people can get home safely. Every donation also helps us reach our goal of  operating every Saturday. You have the power to make this happen! Donate now.