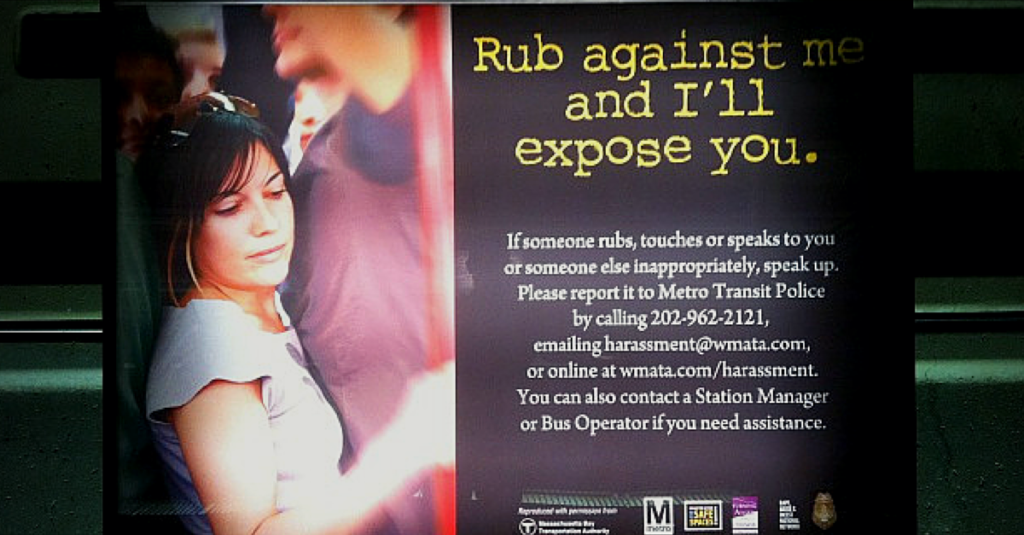 Location: Red line metro headed towards Shady Grove
Time: Evening Rush Hour (3:30pm-7:30pm)
It was a very busy evening on the red line because of metro problems. After a couple of very crowded passed, I was able to board a train headed to Shady Grove. The train was still very crowded and a man, whom I had seen reading a book beforehand, was standing very close behind me. After the metro began moving to the next station, I felt something brush against my butt. I shook it off as an accident, "The train is really crowded, so maybe it was his book." It happened again and I, again, shook it off as an accident. When it happened the third time, I figued that even if they were accidents, he needs to be aware that I can feel whatever it is that is brushing against me.
I turned around, gave him the look of death, and the action stopped. After I gave him that look, a strange feeling came over me. I felt GUILTY. "What if they were really accidents? It is a crowded train. Maybe he didn't realize what he was doing." I'm still so surprised at that feeling.
I realize now that I did the right thing (especially since it stopped) and I'm glad that I summoned the courage not to ignore it and not blame it on a crowded train. I should not feel guilty when I felt something brush me numerous times, no matter what the situation.
Submitted 10/2/14 by "Cam."
CASS is launching RightRides, a service to provide free rides home for women and LGBT people, from 12am-3am on Friday, October 31st. Rides, which are made possible by a partnership with Zipcar, will be operated by driver/navigator teams consisting of trained, screened volunteers. Save the number in your phone now: 202-556-4232!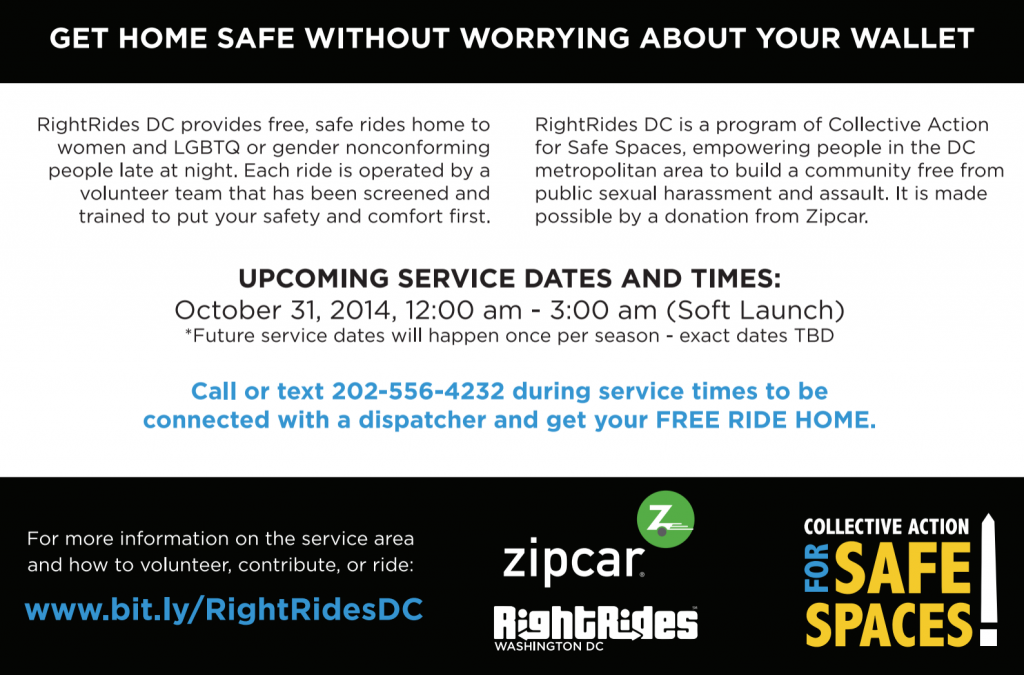 ---
Do you have a personal experience with gender-based public sexual harassment or assault? Share your story to help raise awareness about the pervasiveness and harmful effects of street harassment. All submissions are posted anonymously unless otherwise specified.
If you experience or have experienced sexual harassment on the DC Metro system: Whether the event is happening at the moment or occurred months ago, we strongly encourage you to report to Metro Transit Police (MTP): www.wmata.com/harassment or 202-962-2121. Reporting helps identify suspects as well as commons trends in harassment. You can program MTP's number into your phone so you can easily reach them when needed.
If you need assistance in coping with public sexual harassment or assault, please contact the DC Rape Crisis Center (DCRCC) 24/7 crisis hotline at 202-333-RAPE (202-333-7279).