Location: Cleveland Park – Connecticut Avenue NW
Time: Night (7:30pm-12am)
Something terrifying happened to me on Friday evening, September 26th, around 10:30 pm, after taking a taxi to Cleveland Park. After repeated personal questions and inappropriate comments that made me uncomfortable (eg "I like you," "will you go on a date with me?"), the cab driver stopped in front of my building, looked me in the eyes, intensely, and told me I was locked inside his cab until I handed over "enough" cash. (He had not turned on the meter for the trip). I was trapped inside and scared, so I complied with his request to hand over cash.
I filed a police report with MPD immediately following the incident, I have consulted an attorney, and I plan to press charges. I notified the DC taxicab commission of the incident, and I plan to do the same in Maryland — the cab had Maryland plates. A friend of mine wrote a letter on my behalf to Councilmember Mary Cheh regarding the incident.
I want to do everything in my power not only to bring this man to justice for what he did to me, but also to prevent this from happening to others in the future. Women should be able to feel safe when they get into a taxi. It's atrocious what we have to face daily just to get around our city — our options are not great, to say the least. Walk and face the dangers and harassment that come along with walking, take a cab and you are still at risk.
Submitted 10/2/14 by "Katie Watkins."
CASS is launching RightRides, a service to provide free rides home for women and LGBT people, from 12am-3am on Friday, October 31st. Rides, which are made possible by a partnership with Zipcar, will be operated by driver/navigator teams consisting of trained, screened volunteers. Save the number in your phone now: 202-556-4232!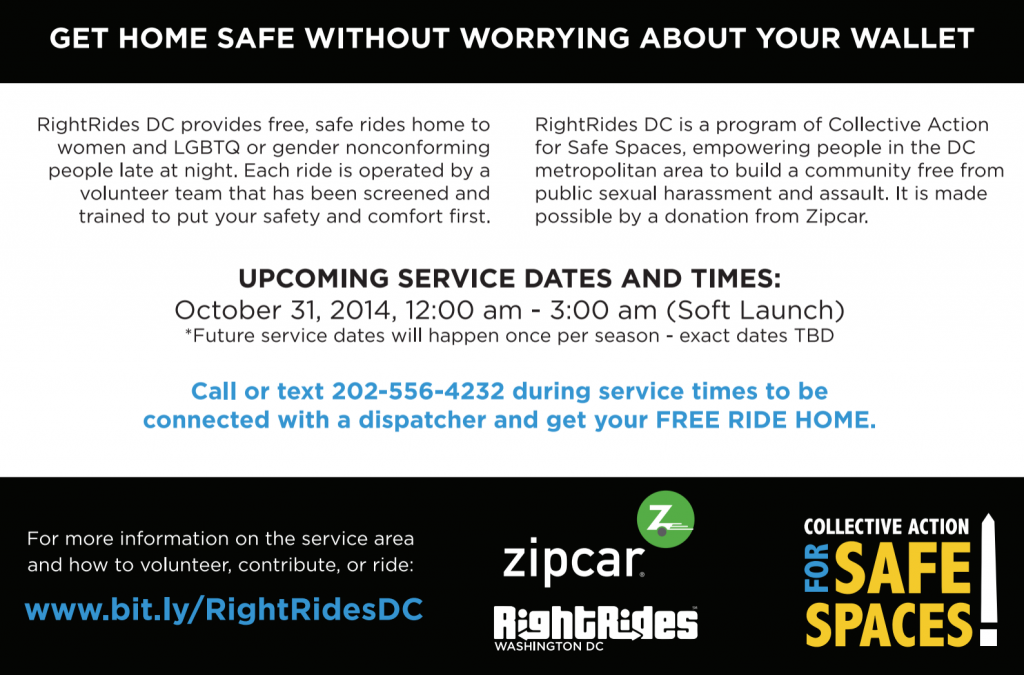 ---
Do you have a personal experience with gender-based public sexual harassment or assault? Share your story to help raise awareness about the pervasiveness and harmful effects of street harassment. All submissions are posted anonymously unless otherwise specified.
If you experience or have experienced sexual harassment on the DC Metro system: Whether the event is happening at the moment or occurred months ago, we strongly encourage you to report to Metro Transit Police (MTP): www.wmata.com/harassment or 202-962-2121. Reporting helps identify suspects as well as commons trends in harassment. You can program MTP's number into your phone so you can easily reach them when needed.
If you need assistance in coping with public sexual harassment or assault, please contact the DC Rape Crisis Center (DCRCC) 24/7 crisis hotline at 202-333-RAPE (202-333-7279).