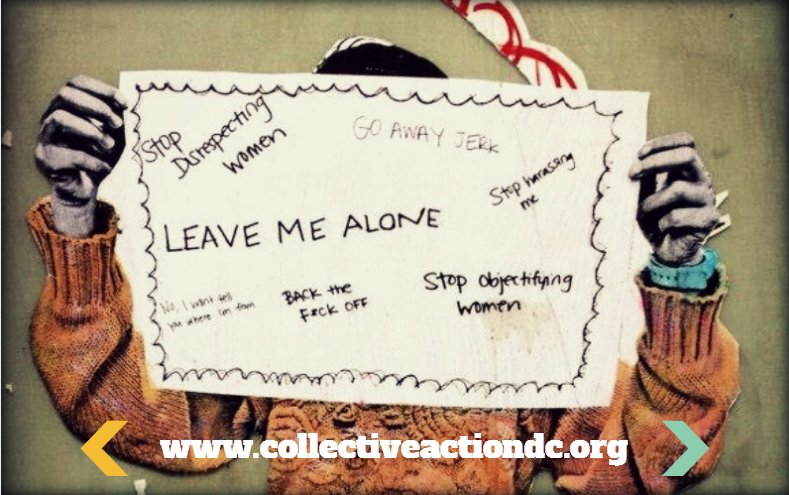 Location: 7th and Constitution NW (Archives/ L'Enfant Plaza)
Time: Daytime (9:30am-3:30pm)
I work by L'Enfant Plaza and like to enjoy my lunch break walking along the mall and resting on one of their benches. When I reached a place to sit today, there was no one on the benches around me. After about 10 minutes, a man stood in front of me talking and I couldn't understand anything; until he told me to spread my legs. Then I noticed he was rubbing himself. I told him no, stood up, and started walking fast toward a group on people walking by. He stopped talking as I walked away, and I saw him sitting on the bench where I was at before.
Submitted 7/14/14 by Anonymous.

Take a stand against public sexual harassment and assault: Donate now.
---
Do you have a personal experience with gender-based public sexual harassment or assault? Submit your story to help raise awareness about the pervasiveness and harmful effects of street harassment. All submissions are posted anonymously unless otherwise specified.
If you experience or have experienced sexual harassment on the DC Metro system: Whether the event is happening at the moment or occurred months ago, we strongly encourage you to report to Metro Transit Police (MTP): www.wmata.com/harassment or 202-962-2121. Reporting helps identify suspects as well as commons trends in harassment. You can program MTP's number into your phone so you can easily reach them when needed.
If you need assistance in coping with public sexual harassment or assault, please contact the DC Rape Crisis Center (DCRCC) 24/7 crisis hotline at 202-333-RAPE (202-333-7279).