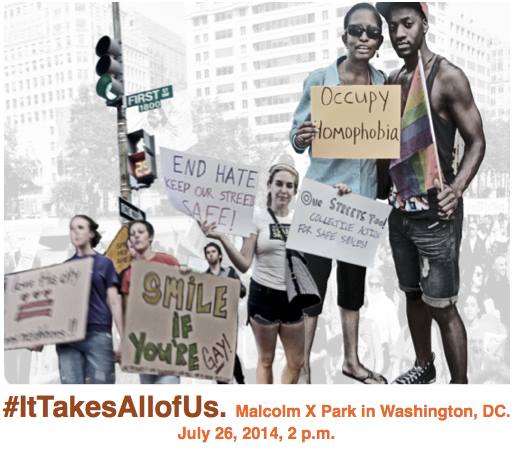 #YesAllWomen #NotJustHello #EachEveryWoman #YouOKSis 
…And introducing #ItTakesAllofUs, an event in Washington, DC, to build a community dedicated to ending gender-based violence in all its forms.
Saturday, July 26
2:00-5:00pm 
Malcolm X Park, 2400 15th St NW
Because in order for all of us (and our families, friends, and neighbors) to be safe, we have to change our culture.
Because we may all experience gender-based violence, but not all our experiences are the same.
Because culture change is hard work, but it is not impossible.
Because all of us have the capacity to make a difference — but we are a LOT more powerful when we do it together.
#ItTakesAllofUs is an in-person event to share our knowledge and experiences and build an organized grassroots community against violence here in our nation's capital. Meet other people who share your vision for a violence-free community, share your experiences, and learn concrete skills from experienced local organizers. You'll leave with a new appreciation of your own power to end violence, ready to share that power with everyone you know. We welcome people of all gender expressions, sexualities, ages, races, abilities, and classes.
SCHEDULE OF EVENTS
2:00-3:00: Chalk out your anti-violence messages in the park. Take pictures for Project Unbreakable. Meet all of the people in your community who want to work to end violence. Music, sunshine, and mingling!
3:00-3:30 (or as long as it takes): After brief remarks by our organizers, we encourage everyone to share their own experiences in a supportive environment.
3:30-5:00: Concurrent hour-long skill shares lead by local organizers.
Check this space frequently! We'll add more presenters as they sign up. Email zosia@collectiveactiondc.org if you want to lead a skillshare!