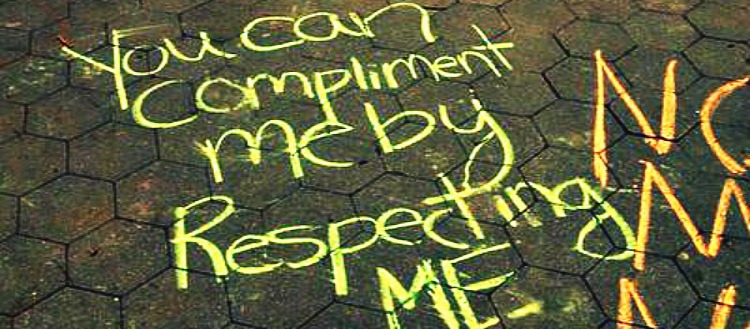 Location: Red Line (between Metro Center & Chinatown)
Time: Evening Rush Hour (3:30pm-7:30pm)
I was standing on the train. Two men sat down near where I was standing. The man closest to me started talking to me. This was around 6pm on a Friday, so the train car was decently crowded.
Man: Can I touch you?
Me: No.
Man: You got a number?
Me (ignores him)
Man (louder): You got a number?
Me: I'm not giving it to you. The man starts saying inappropriate things so I walked towards the door.
Man (yelling down the car): I LICK BUTT! I LICK BUTT! I LICK BUTT! HEY GIRL WITH THE CAMOUFLAGE PANTS! I LICK BUTT! etc.
The door couldn't open quickly enough.
Submitted 2/6/14 by "NS."
Take a stand against public sexual harassment and assault: Donate now.
---
Do you have a personal experience with gender-based public sexual harassment or assault? Submit your story to help raise awareness about the pervasiveness and harmful effects of street harassment. All submissions are posted anonymously unless otherwise specified.
If you experience or have experienced sexual harassment on the DC Metro system: Whether the event is happening at the moment or occurred months ago, we strongly encourage you to report to Metro Transit Police (MTP): www.wmata.com/harassment or 202-962-2121. Reporting helps identify suspects as well as commons trends in harassment. Recommended tip: Program MTP's number into your phone so you can easily reach them when needed. If you need assistance in coping with public sexual harassment or assault, please contact the DC Rape Crisis Center (DCRCC) 24/7 crisis hotline at 202-333-RAPE (202-333-7279).