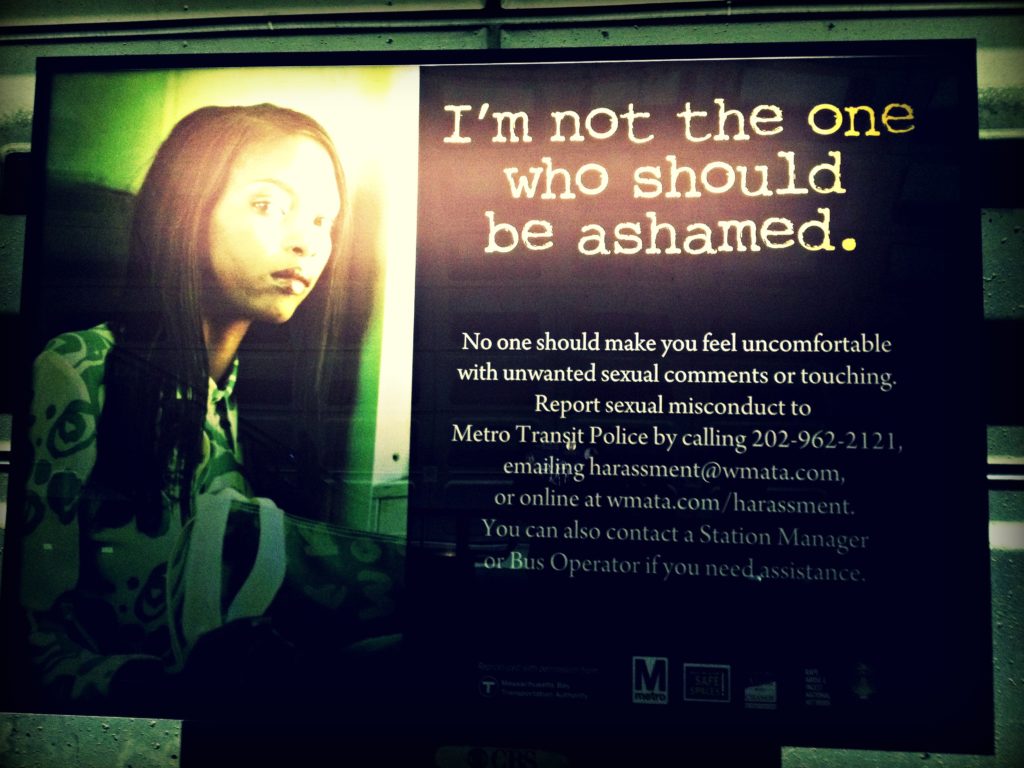 Location: DC Metro; red line to Forest Glen
Time: Morning Rush Hour (5am-9:30am)
I walked into the elevator and a man waited to (approx. 45-50) follow me in. He looked me up and down three times before pushing the button to go down to the train level. I hurriedly walked to a different end of the platform and saw him walk far enough away, but when I got onto the train and sat down I saw him come in to my car at the very last second. Once we started moving, he started screaming in my direction about "fat pussy" and "big booty butt holes" and how "bitches be lying".
I had the Metro harassment number up to call, but luckily he stepped out at the Silver Spring stop. I reported it at the Chinatown Metro station when I got off, but the official laughed at me for reporting someone who didn't physically attack me.
I reported it again at Forest Glen the next day, and, thankfully, that official was a bit more receptive. I haven't seen that man again, but according to the Forest Glen official, he's around a lot.
Submitted 1/16/14 by "LH."
Emphases by CASS. 
Take a stand against public sexual harassment and assault: Donate now.
NOTE FROM CASS: As many CASS followers know, we helped push for WMATA to implement its first-ever reporting and tracking system for sexual harassment and assault in 2012. Starting in 2014, all 3,000 of WMATA's frontline employees — including Metro Transit Police, bus drivers, station managers and more — will be trained in recognizing and responding to public sexual harassment and assault. We're tweeting and sending this post their way to make sure they know this can't come soon enough.
---
Do you have a personal experience with gender-based public sexual harassment or assault? Submit your story to help raise awareness about the pervasiveness and harmful effects of street harassment. All submissions are posted anonymously unless otherwise specified.
If you experience or have experienced sexual harassment on the DC Metro system: Whether the event is happening at the moment or occurred months ago, we strongly encourage you to report to Metro Transit Police (MTP): www.wmata.com/harassment or 202-962-2121. Reporting helps identify suspects as well as commons trends in harassment. Recommended tip: Program MTP's number into your phone so you can easily reach them when needed. If you need assistance in coping with public sexual harassment or assault, please contact the DC Rape Crisis Center (DCRCC) 24/7 crisis hotline at 202-333-RAPE (202-333-7279).