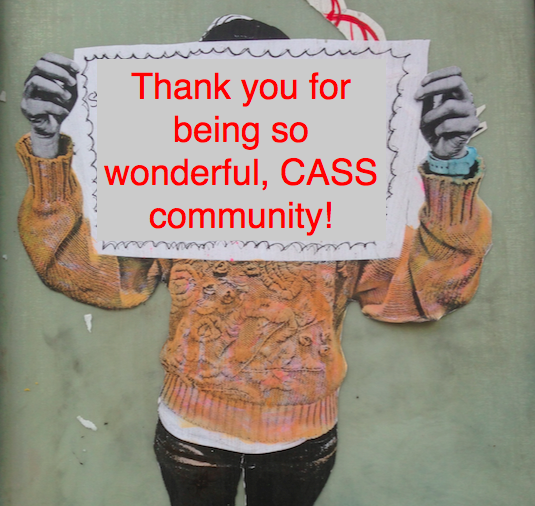 We have only one word to describe your Giving Tuesday contributions: WOW.
You, dear CASS community, came out in full force yesterday. Not only did we exceed our initial goal of $2,000 within the first hour of the fundraiser, but we even beat our second goal!
All said and done, you raised $4,556 for your favorite harassment-ending, community-building organization — and that's before the matching grants! This money will go directly to our public education, advocacy and art activism projects for the coming year. For a better idea of what we do with your money, check out our Donate page.
On second thought, here are two more words: THANK YOU!!!
Because you helped us win double-dollars, we want to double-recognize your contributions to our organization. With the exception of the people who chose to give anonymously, here are the wonderful, generous folks who donated to CASS on Giving Tuesday:
This is a stronger start than we could have imagined for our end-of-the-year fundraising drive. If you want to give but weren't able to do so yesterday, don't worry! Our year end campaign is running through the end of December (an announcement is coming soon). In the meantime, you can donate now or contact Zosia at zosia@collectiveactiondc.org for other donation options.