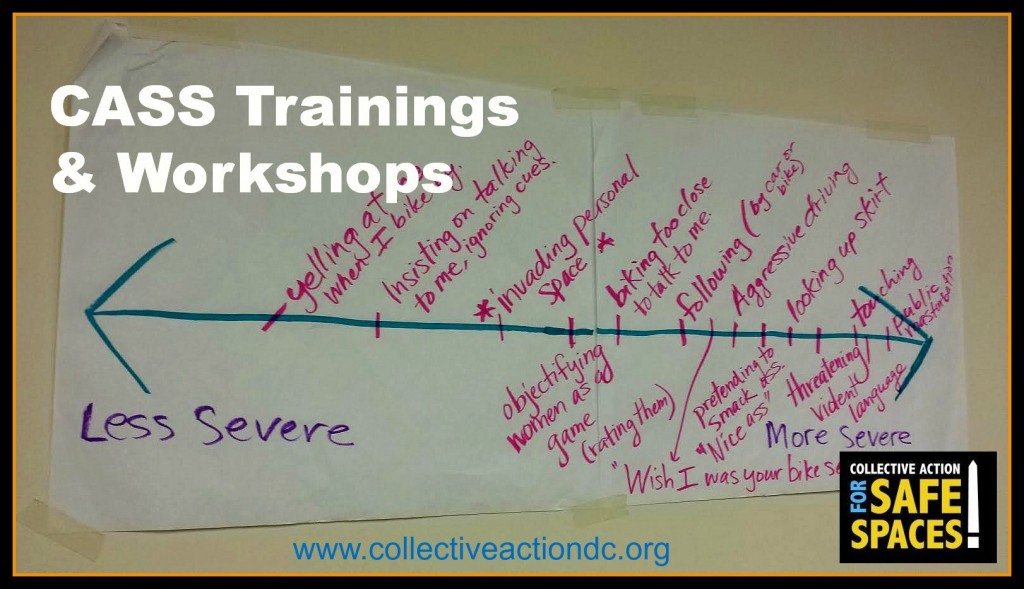 Want to add new tools to your anti-harassment toolbox? Wondering how to motivate your friends, family, and co-workers to become safe spaces activists? Thinking about organizing a community safety audit or other policy project but don't know where to start?
You're in luck! CASS staff is available to provide trainings to your group or organization. We've held trainings and workshops with organizations like Washington Area Bicyclist Association's (WABA), Women's Information Network (WIN), American University, DC NOW and more on a variety of harassment-related topics, including:
Street harassment 101
Assertive responses to street harassment
Bystander intervention
Trainings for youth
Innovative ways to engage in anti-street harassment activism
---
"[CASS's training] was so important because women need to know they're not going through street harassment alone. The sense of community is vital—and the workshop provided participants useful tools to fight back." — CASS workshop participant, Kris Klassen
---
Interested in bringing our experienced trainers and facilitators to your next meeting or event? Contact Zosia at zosia@collectiveactiondc.org.