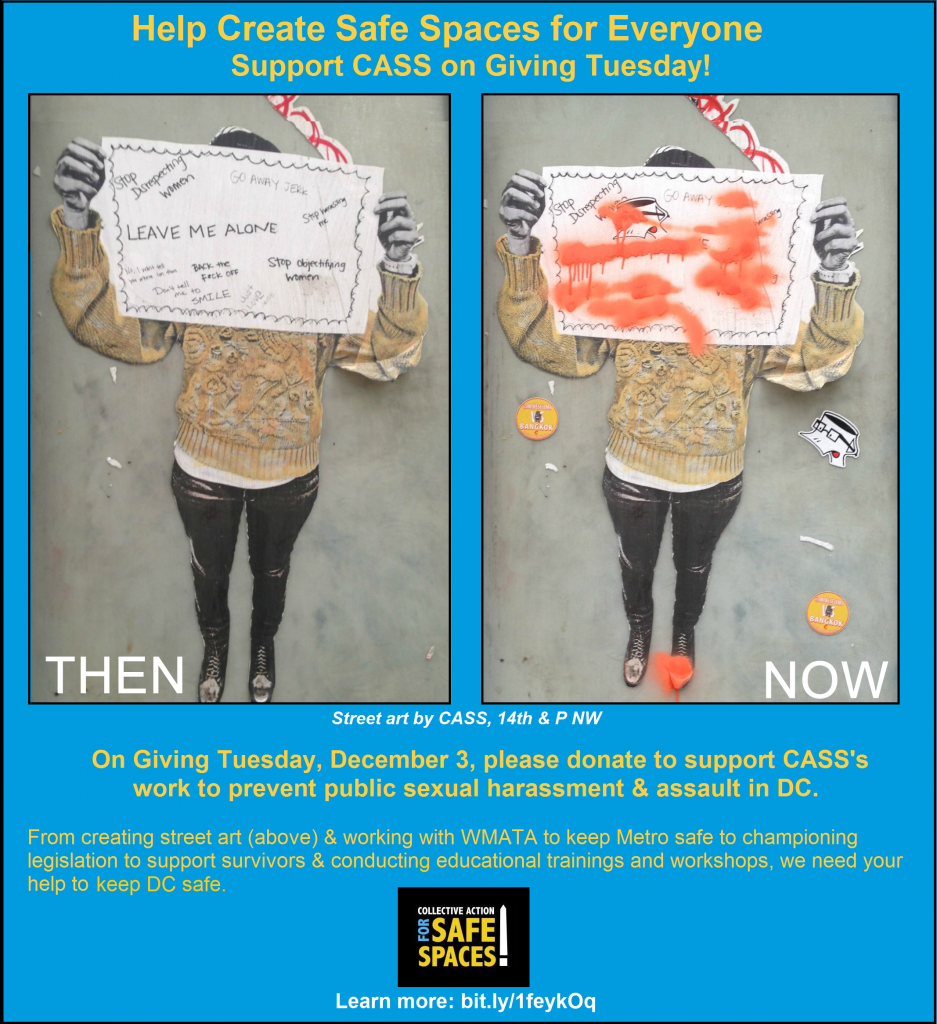 One of CASS's most popular areas of work is our public street art! Street art is a great way to reclaim public space, as well as to spread the word about the need to stop public sexual harassment in a visible, accessible way. This year, in conjunction with local artist/activist ADAPT, we led a street art workshop to put up anti-street harassment wheatpastings around DC. We've been *so thrilled* that one of the most visible pieces, located at 14 & P, has been up since the beginning of the year. But last week, it was defaced.
We want to commit to more street art in 2014 — as well as more workshops, more trainings, more policy work & whatever is needed to keep DC safe! But we need your support. This year, CASS is participating in Giving Tuesday, an unofficial holiday to encourage philanthropic giving.
Instead of spending $5 at Starbucks on Tuesday, December 3rd, donate it to making the nation's capital a safer place for everyone. Your money will provide for more trainings, more workshops, and more understanding about the prevalence of this issue. …And, hey, it'll give you a lot of street cred as you walk by the street art next year and say to your friend, "I made that happen." 
Sign up now to receive a #GivingTuesday reminder from CASS on December 3rd!
>>> UPDATE: Donate to CASS through our page for Case's Giving Tuesday matching program between 11:00 am and 11:59 pm EST today (12/3/13), and your donation will be matched dollar-for-dollar.