In September, my CASS colleagues and I asked you to take a minute to vote for me for the Women's Media Center's (WMC) 2013 Social Media Award! WMC's Social Media Award recognizes "social media gurus and new media makers for gender justice," or those working "to advance women's representation in media and advocate for social and equal justice." I was nominated for the award for my work with CASS to fight public sexual harassment in DC, including using social media (such as Facebook and Twitter) to amplify the voices of survivors of sexual violence and leading efforts to pressure high-profile companies into ditching their pro-street harassment or sexist marketing.
I was honored to attend the Women's Media Center Awards ceremony in New York City on October 8th. The night was incredible! I met a number of my fellow WMC Social Media Award nominees, including Janine Brito, Patricia Valoy, Lindy West, Wagatwe Wanjuki and Jocelyn "Joz" Wang. I glimpsed celebrities like Marisa Tomei, Rosario Dawson, Sally Field, Kathy Najimy and Gayle King. I also had the chance to meet Robin Morgan and Gloria Steinem, who in 2005 co-founded the WMC with Jane Fonda in efforts to "make women visible and powerful in the media."
Toward the end of the night, Jane Fonda herself announced the Social Media Award nominees (yes, Jane Fonda said my name on stage!), and the award went to Jezebel's Lindy West for her courageous work in leading the fight against rape culture. "The real honor, to me, is just to be nominated alongside all of these amazing women–to have my name on a list next to theirs," Lindy said in her acceptance speech. Lindy continued on to underscore the power of women's voices and activism in the online world.
From host Lily Tomlin's humorous reflections on the continued strength of the feminist movement ("We are raising hell and raising consciousness!") to empowering acceptance speeches by CNN's Christiane Amanpour, Voto Latino/MSNBC's Maria Teresa Kumar and BET's Sheila C. Johnson, the awards ceremony was nothing short of inspirational. I'm honored to have been in the company of so many amazing women — presenters, audience members and my fellow Social Media Award nominees alike.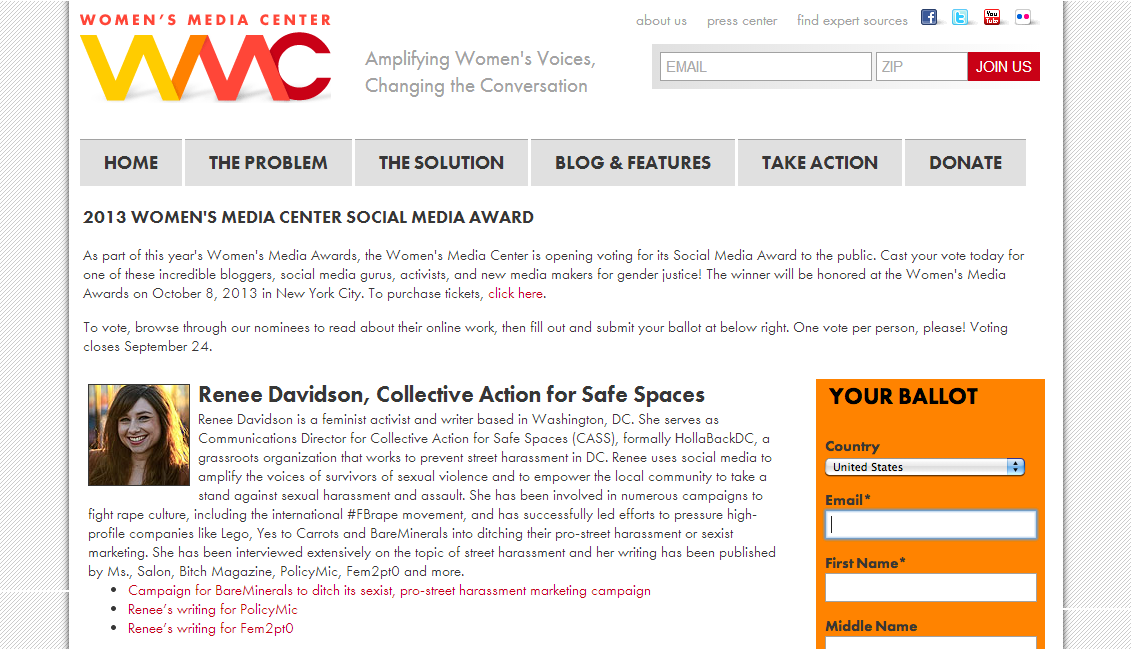 It was an amazing time, and I can't thank the CASS community enough for your votes and support!
My three colleagues and I like to say that CASS is the little engine that could. In the four years since we were founded, we've worked hard to protect survivors and prevent public sexual harassment and assault, causing us to become internationally recognized for our work to make DC safer. Volunteer-led and -run, we couldn't have done any of it without your support. Thank you!