By Erin McAuliff
Your voice is important to DC's long-term transportation plans. It's critical that the city's long-term transportation plans address the pervasive problem of public sexual harassment.
Agree? Continue reading.
Sexual harassment can happen anywhere, including while riding the bus, walking along the sidewalk or biking along your favorite trail. To improve the safety of women, LGBTQ, and gender non-conforming residents and visitors throughout the District of Columbia, the city should create a strategy to address issues of harassment when traveling because safety is about more than just preventing crashes. 
The District Department of Transportation (DDOT) is currently developing a 30-year transportation plan for DC. With a stated goal of "bold and implementation-focused vision for our city's transportation future," DDOT has been focusing on making streets, sidewalks and trails safer and more efficient. However, the planning process has yet to focus on issues of public sexual harassment and assault.
How can you help? Add your voice to the conversation by taking a few minutes to complete moveDC's MetroQuest Survey. (Quick instructions below!)
DDOT has been actively gathering input from residents since January through public meetings and its moveDC website, with a draft plan expected before 2014. And there's still time for residents to complete moveDC's MetroQuest Survey, which ends October 30th. Public sexual harassment affects us all, whether directly or through a friend, family member or neighbor.
DDOT's 30-year transportation plan for DC should address the problem of public sexual harassment. It's critical that we each make our very real concerns about harassment and gender-based violence an important part of DC's transportation plans.  It's not too late to fill out moveDC's MetroQuest Survey and speak up about the need to prevent public sexual harassment in our community.
As DC Metro residents committed to ending public sexual harassment, CASS supporters have their eyes, ears and hearts open to the city in a way other mights not understand or initially consider. Survivors of sexual harassment and assault experience transportation-related issues on a daily basis that have not yet been expressed in moveDC's plans.
Sharing your experiences and providing feedback will only serve to strengthen a District initiative that is going to lay the groundwork for the next 30 years and about 200,000 more residents. Consider, for example, that extra-long stoplight that leaves you vulnerable at an intersection where you almost always have an issue, that bus driver who will (or won't) stop a block early for you so you feel safer about getting home at night, or those trips on the Metro when you are starting to feel uncomfortable but don't get off, knowing that you'll feel just as unsafe walking, biking, or in a cab. While DDOT promotes use of transit, walking and bicycling, transportation planners should work to create a safe transportation system that allows women, LGBTQ and gender non-conforming persons the ability to choose their preferred mode of travel without fear of sexual harassment. 
---
Now We'll Walk You Through moveDC's Quick & Easy MetroQuest Survey!
---
The survey is simple and can be completed in three (3) easy steps, which we cover below. Please note that our template answers are only suggestions; please feel free to answer every question in a way that best represents your own perspective. 
1. "What Is Important to You?" Select your three top values or priorities for transportation in the District!
The survey offers six values from which to choose the three most important to you, as well as the opportunity to create your own value(s). There is also a button on the bottom right to add a comment about the value. While all of these values are important to promoting safe spaces, we recommend that you list "Safety & Security" as one of your top values and include a comment like this:
"When planning for safety and security, please also consider how safe pedestrian and transit riders feel while walking, biking, or taking public transportation. Safe spaces that discourage gender-based violence are the result of the built environment and planning as much as they are the individual responsibility of our peers and neighbors."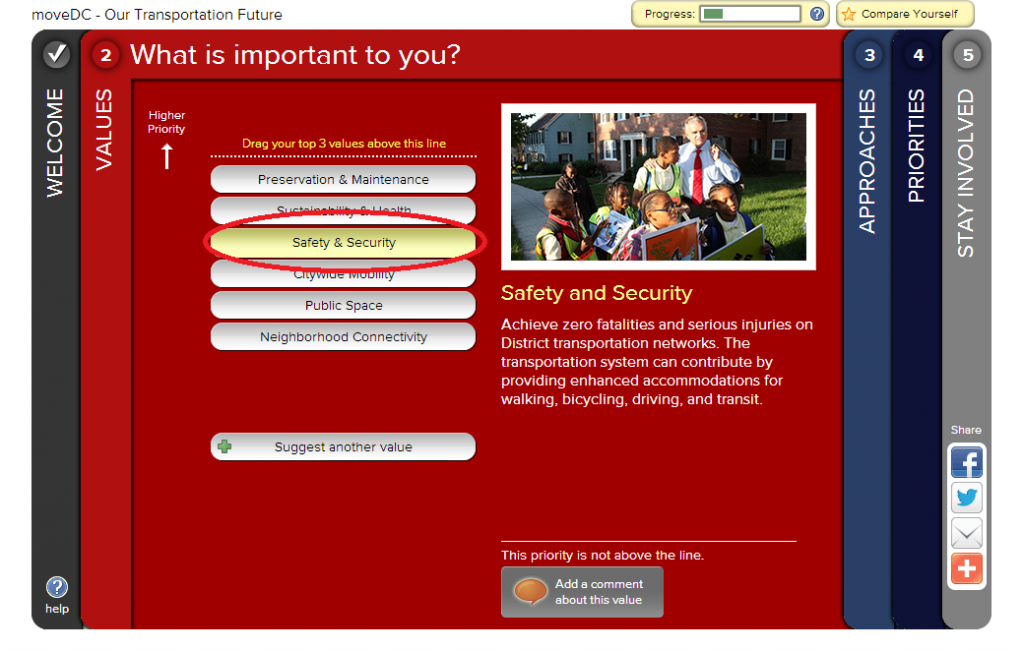 2. Now you're at Step 2! Click on each of the three "approaches" (Stay the Course, Get to the Center and Connect the Neighborhoods) listed at the top of the survey page in order to see the performance of your values or priorities for each approach.
After you explore each approach and its performance, rate each approach by selecting the stars. You also can compare your choices to the choices of other participants. CASS endorses Approach C: Connect the Neighborhoods. This approach focuses on increasing connectivity, access, and efficiency of travel between neighborhood and key destinations citywide. It prioritizes local travel and protects local streets in residential neighborhoods from regional traffic intrusion. CASS feels this approach allows for increased opportunities for planners and city officials to consider ways to discourage gender-based violence on our local streets and public transportation. Approaches A (Stay the Course) and B (Get to the Center) are too big-picture and do not address the more nuanced issues that are part of promoting and maintaining safe spaces for everyone.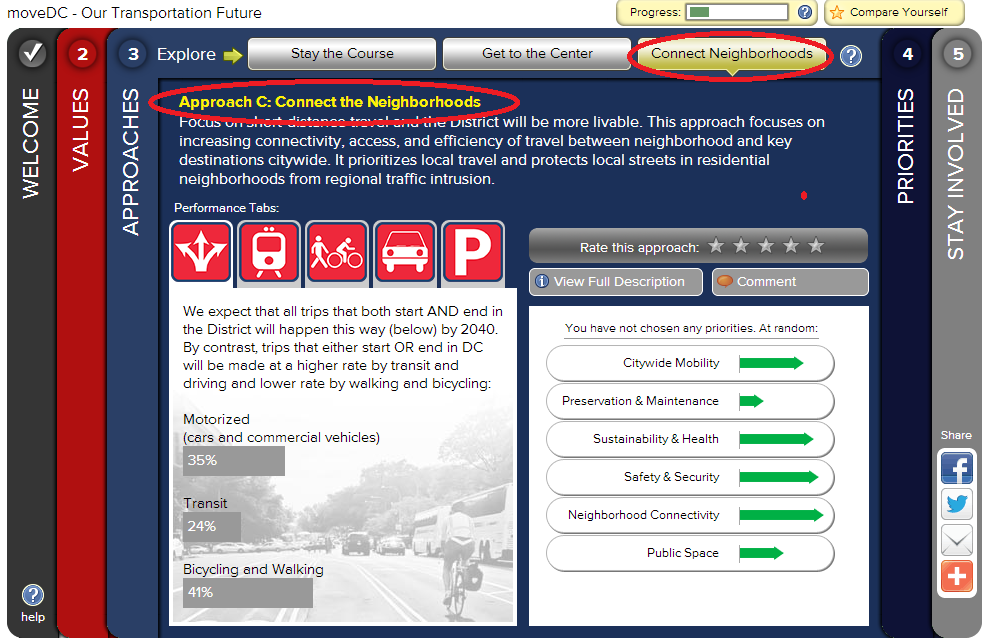 3. "Tell us how strongly you feel about things by using the coins to allocate resources to the items you consider to be the highest priorities."
Each of the budget categories under Safety & Security have the potential to positively impact street culture, but there are two which are especially comprehensive in their approach to making streets safe and welcoming for residents of all ages. Here's why you should allocate a few of your coins to them!Under the Safety and Security category, you will notice the survey includes the options to "Expand Safe Routes to Schools Program" and "Begin Safe Routes for Seniors Program." Safe Routes to School and Safe Routes for Seniors are programs that focus on improvements that can be made to streets and pedestrian infrastructure (like adding bike lanes or improved crosswalks) to improve safety and mobility for people of all ages. Safe Routes programs are an important tool to achieve what are known as complete streets—roadways designed to enable safe, attractive, and comfortable access and travel for all users. Picture a street with only motorists and just a handful of pedestrians. Now picture a street with motorists as well as bikers, pedestrians and transit riders of all ages. Which street do you feel most comfortable on?
Almost finished…!
Don't forget to include your contact information on the last page. This is also your final opportunity in the survey to advocate for safe streets, free of harassment. Consider including this template, or your own modified version, in the comment box on the final page:
"I am a proponent of safe spaces that women and LGBTQ persons are not afraid to travel through or occupy. When developing DC's long-range transportation plan, please consider how planning and the built environment are related to sexual harassment and gender-based violence. I want a safe transportation system that allows women and LGBTQ persons the ability to choose the mode that is right for their trips without fear of sexual harassment! For examples of recent accounts of public sexual harassment in the city, please visit: http://www.collectiveactiondc.org/"
Now What? Attend a Workshop! Now that you've filled out the survey, you're ready to attend one of moveDC's final public workshops, where project team members will be discussing and collecting feedback on the performance of the three approaches in terms of reaching the District's transportation goals. This is your opportunity to discuss how the approaches reach your own goals for safety and efficiency! There are (tentatively) five opportunities for members of the public to attend a workshop, listed below. Check out moveDC's participation page for up-to-date information. We hope to see you there!
Monday, October 21, 2013 from 7:00 a.m. to 6:00 p.m. at Union Station; 625 First St NE
Tuesday, October 22, 2013 from 6:30 p.m. to 8:30 p.m. at Dorothy I. Height/Benning Neighborhood Library; 3935 Benning Road NE
Saturday, October 26, 2013 from 1:00 p.m. to 4:00 p.m. at UDCUSA Retail Center 2nd Floor between Target and Best Buy (near escalator and elevator); 3100 14th St NW
Wednesday, October 30, 2013 from 6:30 p.m. to 8:30 p.m. at Petworth Neighborhood Library; 4200 Kansas Ave. NW
*WEBINAR* Thursday, October 24th, 2013 from noon to 1:00 p.m; sign up via www.wemoveDC.org
Erin McAuliff is a native of Brooklyn, NY. She holds a BA in Criminal Justice from the George Washington University and a Master of Urban Planning from Hunter College, City University of New York.  She currently serves on the Advisory Board of Raise Your City.