Location: George Washington University campus; 22nd and H St NW
Time: Daytime (9:30am-3:30pm)
I was sitting on a bench outside, catching up with my friend on the phone. The bench faced a row of classrooms. One of the classrooms was dark, with most of the blinds drawn except for one. At first, I didn't know what I was looking at, since it was dark and the windows were a bit tinted. Soon, though, there was no mistaking what I was seeing: A man, staring right at me, masturbating in front of the window. I could see it all. Everything.
I hung up the phone, ran inside to the door to the classroom where he was, and just kinda… stood there. Shortly thereafter, the man came out of the classroom. He just looked at me for a few seconds, made eye contact with me — and I just froze. I had no idea what to do. In hindsight, I wish I yelled, called him a pervert, took a picture – something! But all I could do was freeze. He just casually walked away, down the hallway, probably out of the building. I notified the first person I saw, who took me down the hallway to report it to GWPD. They promptly started looking for a man that matched my description, but didn't find him.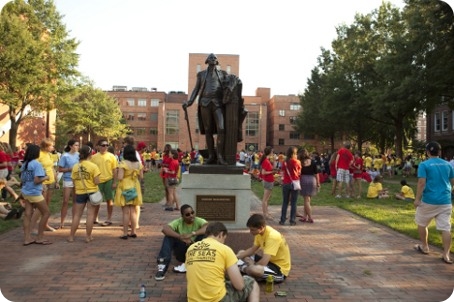 I can't get the image out of my head! I just start thinking about it, spontaneously start crying. I can't have sex with my husband. It's so messed up. I looked through the DC registry of sex offenders a few hours later, and as I was browsing the pictures, I found someone who looks just like him. After clicking through his information, it appears that he works two blocks north of where this happened – and I walked right passed his place of employment on my way in that morning. What if this is him? What if this creep followed me?
I'm not 100% confident that it was him, though, and I'm worried that I wouldn't be able to pick him out of a lineup, or that I would finger the wrong person and mess up someone's life. So, I declined to report this to MPD, who would have brought him in for a lineup (apparently, standard procedure for reports of incidents involving people on the SOR). I hope that wasn't a mistake.
Emphases by CASS.
Submitted 7/30/13 by "JB."
---
Do you have a personal experience with gender-based public sexual harassment or assault? Submit your story to help raise awareness about the pervasiveness and harmful effects of street harassment. All submissions are posted anonymously unless otherwise specified.
If you experience or have experienced sexual harassment on the DC Metro system: Whether the event is happening at the moment or occurred months ago, we strongly encourage you to report to Metro Transit Police (MTP): www.wmata.com/harassment or 202-962-2121. Reporting helps identify suspects as well as commons trends in harassment. Recommended tip: Program MTP's number into your phone so you can easily reach them when needed.
If you need assistance in coping with public sexual harassment or assault, please contact the DC Rape Crisis Center (DCRCC) 24/7 crisis hotline at 202-333-RAPE (202-333-7279).