Location:  8th & R Sts, NW
Time: Daytime (9:30am-3:30pm)
I was crossing the street near the Shaw Metro and a man was just stepping off the curb as I was getting to the other side of the street. He stopped in his tracks when we were about 5 feet apart, looked me square in the face and said "Hey pretttttty." When I kept walking and didn't return his attempt at eye contact, he repeated just "PRETTY" louder a few times. When I passed him with my head down and still didn't respond, he said "Did you not hear me?", I guess because I had my headphones in. (And I suppose because in his mind there was no other possible explanation for why I wouldn't immediately respond!) At this point I was so annoyed I turned my head around and said, "Yeah, I heard you, I just don't appreciate being talked to like that," and kept walking. I was treated to his tirade of "F**k you, bitch, what's wrong with you", etc. directed at me for maybe 30 seconds as I got further away.
Submitted on 12/27/12 by "C.R."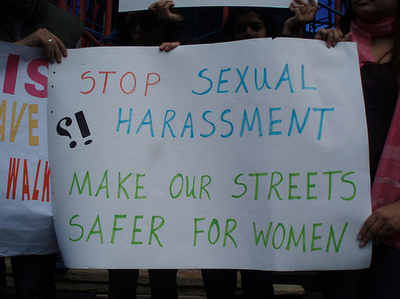 Do you have a personal experience with gender-based public sexual harassment or assault?
Submit your story to help raise awareness about the pervasiveness and harmful effects of street harassment. All submissions are posted anonymously unless otherwise specified.
If you experience or have experienced sexual harassment on the DC Metro system:
Please consider reporting to Metro Transit Police: www.wmata.com/harassment; 202-962-2121.