With two years and some months under our belt, we are growing up. Many of you told us that you wanted Holla Back DC! to be doing more–more trainings, more outreach, more ways to address to public sexual harassment and assault. We heard you. We worked with different activists, organizations, and community members to design a name that could be larger than a holla. We wanted something that addressed safety, community empowerment, and action.
Out came–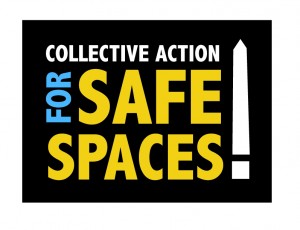 The problems of street harassment that Holla Back DC! faces are too big to be solved by a blog alone.  DC needs an engaged community working on several levels to end street harassment.  Holla Back DC! is expanding its community: the blog will be joined by sibling initiatives (like RightRides DC) under the umbrella of this new parent, Collective Action for Safe Spaces.
Over the next few weeks, we will be rolling out more information on our website. In the meantime:
If you are new to our community, WELCOME! We hope that you join our discussion online and offline.